American Idols, Take Your Corner: Taylor Hicks vs. Fantasia Barrino
by Matt Richenthal at .
The battle begins tomorrow. The most recent winner of American Idol, Taylor Hicks, will be releasing his first solo album.
Also hitting record stores across the nation: the latest effort from another Idol winner, Fantasia Barrino.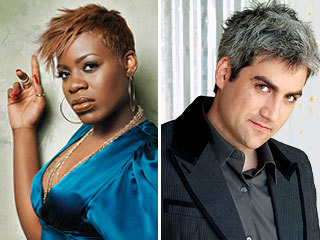 Which artist will sell more records? Which CD is better? A blogger over at Entertainment Weekly weighs in:

My gut feeling is that Taylor's week 1 sales will be a tad higher. After all, his season is freshest in American Idol fanatics' minds, and one should not underestimate how many fortysomething chicks out Christmas shopping for their families will be willing to part with a twenty-dollar bill to support their favorite gray-haired hip-swiveler.

That said, I think 'Tasia may move more CDs in the long haul.

I'm almost done listening to her new disc and I've heard at least four potential smashes she could use to follow up the fierce first single "Hood Boy" - "When I See You," "Uneligible," "Not the Way That I Do," and the insanely addictive "Baby Makin Hips."

As far as I'm concerned, Fantasia does for 'Tasia what Breakaway did for Kelly Clarkson; it transforms her from reality-TV sensation to full-fledged artist - and hopefully, a multiplatinum one at that.

Matt Richenthal is the Editor in Chief of TV Fanatic. Follow him on Twitter and on Google+.

Tags: American Idol
From Around the Web