Here's a snippet from an interview People magazine recently conducted with Jennifer Hudson:
How does this New Year's differ from last year's?
Not last year, because I had already got the part, but the year before that I had no clue where I would become now ... So, I got kind of emotional out there tonight doing "Weekend in New England," because that was the song I was eliminated off of, and then to not know where I was going to go from there, and then to be able to stand on this stage tonight about three years later. At that moment I was like, "Oh, my God."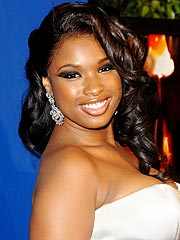 Do you have any immediate plans for '07?
I plan on moving into my own place, finally. So that is what I am looking forward to in the New Year.

Is there someone in your life?
Well, (James and I have) been together forever, eight years now. We grew up together. He was my brother's best friend."

Your Dreamgirls costar Jamie Foxx was one of your most ardent supporters, wasn't he?
Jamie would call me every Sunday during the summer. It would never fail, and the first time he called I was like, "Oh, my God. Jamie Foxx just called me!" But he was so supportive, so sweet so helpful ... during filming.

And he came to me at the end of filming and he pulled me to the side and he was like, "I didn't want to distract you while you were working, but now that we're at the end, I can say what I want to say." And he was like, "You know what? We really think you did something special. I feel like you're about ready to go down the same road that I just experienced (winning an Oscar for her performance in Ray), and if I can do anything to mentor you and help you out, I'd be happy to."

What was it like being America's favorite underdog?
I'm no different (from) anybody else. I'm just a girl who seemed to get a chance, and I'm glad to be able to represent the average girl. (But now) I can't go anywhere. The other day I tried to go in Sprint (with) my sister, and people were calling people on the phone, like, "Oh, my God, you have to come meet Jennifer Hudson." Bringing them out of their houses.

Then they went and got people out of their cars, and I had to sign autographs on all their receipts, and I was like, "I can't go anywhere."

Matt Richenthal is the Editor in Chief of TV Fanatic. Follow him on Twitter and on Google+.

Tags: American Idol