Last week, American Idol experts Kimberly Caldwell and Rosanna Tavarez reviewed the opening week of the show.
Today, they're back for more. Read on for their recap of the Memphis and New York City tryouts.
TVGuide.com: Who are you liking from Week 2? I have a good feeling about "Sundance" Head, the blues guy....
Kimberly: Sundance Head is my favorite as of right now.
Rosanna: My favorite is 16-year-old hippie girl. I loved her.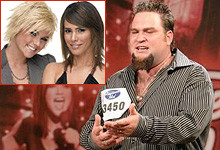 Kimberly: Oh, my god... she could do every single type of music, she was so versatile. I think we are all going to be super, super surprised about what comes out of this girl. I think everybody thought that she was just going to be a character and a joke, but this girl really has something special. The fact that she is so unique and so out there is really going to work in her favor.

TVGuide.com: At this early stage, how big a factor do you think the ultimate marketability of the singer is? It sometimes seems like a gal with merely "promising" pipes but in a pretty package can coax a yes out of Simon.
Rosanna: I really think that first it's the voice, second it's the stage presence, and third is how you look.
Kimberly: Yeah.
Rosanna: If you happen to look great, it's to your benefit, but I really think the first two are the priority.
Kimberly: You don't have to look like Britney Spears to be an American Idol. Take Ruben Studdard: You wouldn't look at him and go, "Yeah, he's going to win American Idol." Or Clay Aiken... they don't look like typical pop stars, and I think that's why people fall in love with them.

TVGuide.com: Week 1 gave us the brother and sister going to Hollywood, and Week 2 gave us two girls who are best friends. Is there real value in such "Awww" factors, or is it simply not going to save their bacon at the end of the day?
Kimberly: No, it's just part of the reality show, and that's pretty much it.
Rosanna: Right. I think they're all good singers, as well, but probably one of them will wind up going on, and the other will be sent home. That's always the "dramatic twist."
Kimberly: The one [of the Week 2 BFFs] without training, I think, will definitely wind up in the top 12, and the one with training will wind up going home.

TVGuide.com: My wife was commenting on how the song choices can veer toward the obscure. Because of music-rights issues and what not, is there a set list of songs an auditioner has to choose from?
Kimberly: There's a list of songs that you can choose from. During the first audition, it's really large, and the third time you go in front of the judges, they give you another list that's shorter.
Rosanna: I was definitely thrown off by the Jets song, circa 1985, that was thrown in there! I think it was, like, "You Got It All over Him." The Jets were a group from Hawaii, there were about 12 of them, and they were one of my favorites in the '80s. It was a weird song choice, and yet it was there.
Kimberly: There are copyright issues, so if you choose to sing a song not on the list, you're less likely to get on television.

TVGuide.com: I'm a bit surprised by the lack of Chris Daughtry-esque rockers so far this season. Are you?
Kimberly: I'm actually pretty surprised that there aren't more rockers, but at the same time we have to understand that a lot of people don't get shown. We've seen all the really, really, really bad people, and then we've seen maybe five awesome people.
Rosanna: It's nice that they're not playing by the same token roles: the rocker, the country, the pop girl.... It's nice that we're skipping over the rock thing, at least maybe for a little bit.
Kimberly: But I know who I do have my eye on: His name is Chris Richardson. A 22-year-old little Justin Timberlake look-alike and sing-alike.
Rosanna: [Laughs] Are you always looking for a date?!
Kimberly: Yes, I am.

Matt Richenthal is the Editor in Chief of TV Fanatic. Follow him on Twitter and on Google+.

Tags: American Idol