Be careful what you wish for. So begins an article in The Newark Star-Ledger. Here's more from it:
Whatever 20-year-old singer Antonella Barba expected to gain from auditioning for the star-making machine "American Idol," it was likely fame, not infamy. But Barba - until last month a Catholic University student from Point Pleasant with a nice voice - is now at the center of a perfect storm of celebrity and technology, sexuality and morality.
Photos of Barba topless, hands covering her breasts, and on the toilet, appeared on the Internet just as she emerged as a semifinalist on television's top-rated show earlier this month. Over the weekend, racier photos materialized, including several shots of a beautiful brunette performing a sex act on a man who is not identified.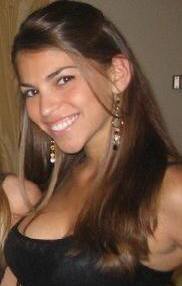 Her best friend and fellow

Idol

auditioner, Amanda Coluccio, said the tamer shots are of Barba, including a full-length shot of Barba naked, covered with rose petals, taken for a calendar she made for her boyfriend of several years. But the lewdest of the bunch, she is certain, are not Barba, a Red Bank Catholic High School graduate who had been studying architecture until she got her break on "Idol."

"They were meant to be seen by one person and one person only," Coluccio said at her Holmdel home. "The really bad ones aren't her. I've studied them. It's not her nose. She's never had (acrylic nail) tips in her life. She's the least slutty person I know."

American Idol producers won't make Barba, or any of the semifinalists, available for interviews until after they are ousted. But Coluccio, who speaks with Barba daily, says they believe someone from Catholic University broke into her computer and posted the pictures.

"She's been crying. She's horrified," Coluccio says. "She's most upset about what her parents think."

If it's Barba or not, the unseemly association is likely to persist, regardless of how she does in the competition, said Rich Hanley, an assistant professor of journalism at Quinnipiac University in Hamden, Conn., who specializes in interactive communications. Among the semifinalists, Barba's singing has drawn some of the harshest criticism from the judges, so her Idol dreams likely will die faster than her Internet celebrity.

"This is a breaking situation in terms of the digitization of fame," Hanley said. "Young people need to understand that anything they put on the Web is going to come back and haunt them some time in their career. Because it's everywhere, there's never going to be a minimal response. There's always going to be a maximum response."

As for Barba's Idol popularity, it's possible a voting bloc of hormone-addled teenage boys is asserting itself, and there is an influential Web site, www.votefortheworst.com, that encourages viewers to vote for the "most entertaining train wreck." It's backing Barba.

Click here to read the rest of this article.

Matt Richenthal is the Editor in Chief of TV Fanatic. Follow him on Twitter and on Google+.

Tags: American Idol