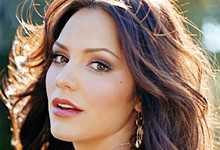 A new
Katharine McPhee album
means a new slew of interviews with the
American Idol
runner-up. Here, she sits down with
TV Guide
...
TV Guide: How did being on American Idol change you?
Katharine McPhee: When you're in that [competitive] place, everything you hear affects you because you're already so sensitive and stressed and tired and overworked. When people ask me, "How was the experience?" my first reaction is always negative, which is not right of me. I think I'll look back at this 40 or 50 years from now, and it'll be like, "Wow, I was part of history."
TV Guide: What was the hardest part?
McPhee: I think those Idol forums — like AmericanIdol.com — should be shut down. It's basically just an opportunity for people to say the meanest things without consequence.
TV Guide: Meaner than the judges?
McPhee: The judges never made me cry. But their comments hurt. I was constantly fighting the pain and putting Band-Aids over the wounds to keep going.
TV Guide: You've just released your self-titled debut CD. What was that like to make?
McPhee: The thing that was hard for me about the studio is that I love to talk. And I was so isolated in the booth. It was pitch-dark and quiet, and [the producers] would be outside talking and I'd be like, "Hello? Guys? What are you saying about me?" I would hope that my second record would be less of me judging me.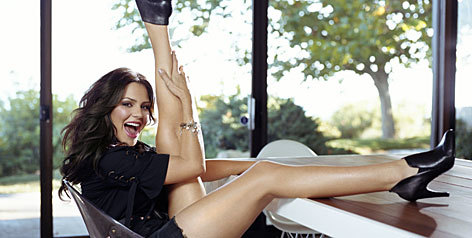 TV Guide

: You judged yourself in another way: Prior to

Idol

, you were treated for

bulimia

. Are you staying healthy?

McPhee:

Everything's changed for me, and it's pretty miraculous just to be in a healthy body and to promote healthy bodies. But what's still hard is body image. Sometimes I love my body and sometimes I think I look so ugly. I'm just being honest.

TV Guide: On your CD's liner notes, you tell your boyfriend (actor Nick Cokas) that you love him more than you can say. What can you tell us about him?
McPhee: I actually snuck out of the Idol house to see him in the beginning. It was great to have that touchstone, a confidant. And then, as the show progressed, I just got really wrapped up in it, and I wasn't nice to him.

TV Guide: Your CD is sassy, upbeat and very different from the power ballads you sang on Idol. Was that sort of the point?
McPhee: If anyone had ever asked me what kind of record I wanted to make, I would've said, "An R&B, pop/soul album," because that's what's on the radio right now. If the record succeeds or fails, at least I can say, "I chose to go this direction." Nobody molded me.

TV Guide: Will you be performing on American Idol this season?
McPhee: If they'll have me back, I'd love to. I love the producers, Ken [Warwick] and Nigel [Lythgoe]. I want to look them in the face and say, "This is the Katharine that I wish I could've been."

TV Guide: Did you ever break down?
McPhee: [Pause] The only time I cried was when Chris Daughtry was eliminated. They said, "Chris is going home," and the show ends and everybody's basically looking at me saying, "It should have been you." They're not actually saying that, but that's what I'm interpreting. Simon [Cowell] said, "You live to see another day." And I just started crying. It felt weird and bad.

Matt Richenthal is the Editor in Chief of TV Fanatic. Follow him on Twitter and on Google+.

Tags: American Idol