Robyn Troup: American Idol Contestant Wins Her Grammy Moment
by Matt Richenthal at .
Robyn Troup beat out thousands of other hopefuls last night and found herself on stage with Justin Timberlake at the Grammy Awards.
The Houston native won the show's "My Grammy Moment" and belted out a pair of hit songs with the pop star and rapper, T.I.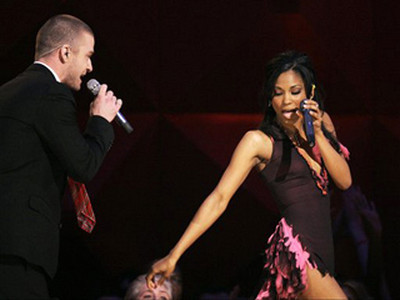 In an interview before the announcement was made, Troup told The Houston Chronicle that she actually tried out for American Idol this year. Here's the excerpt."I actually did American Idol. I can't really talk about it. You just have to watch this season. Just watch San Antonio."

After her performance with Timberlake on stage, Troup said she couldn't really talk about whether or not she moved on in Idol. Fans will have to tune in this week and find out.

Finally, the Chronicle also asked Robyn about recent concerts she's attended. And Idol was once again part of her response:

"The only concert I've been to since I've been here is Kelly Clarkson. I entered another singing contest. People laugh at me so much. There was a "Kelly-oke" contest for tickets and backstage passes," she said. "I ended up winning. I didn't really listen to Kelly Clarkson, but as soon as I got there, I was like, 'Jesus, she's amazing.' I had to like buy both of her CDs."

Matt Richenthal is the Editor in Chief of TV Fanatic. Follow him on Twitter and on Google+.

Tags: American Idol
From Around the Web