Once again, Bucky Covington is reaching out to his fans. Let's see what he has to say:
Thanks to everybody who came out to the Grand Ole Opry Friday night or listened on the radio. It was a huge thing for me. Without you, it doesn't matter how good the songs are, it ain't gonna fly.
Little Jimmy Dickens introduced me as I was making my Grand Ole Opry debut. What a character. Funny jokes – as soon as you tell a good joke, I'm your best friend. And little – he's just a little ol' feller. Fits his name to a T.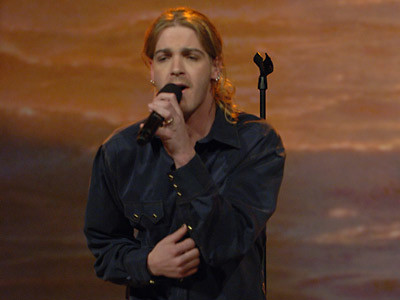 When I first walked out on the Opry stage, I forgot about the circle – the one they brought from the original stage. So I walk out there, and I'm, like, "Oh, that is awesome." Because it stands out. It's older, a nice, dark circle of wood in the middle of the stage. I kept saying to myself, "It's just another gig, it's just another gig, don't get nervous." And when I started singing A Different World, I thought I was fine. But I got about to the chorus, and I thought, "Why is my knee shaking?" I had to grab the mike and start walking.

I could see a couple of my fans out in the audience. A lot of them drove in from all over the country to be here. I saw Hilda – she goes everywhere. She followed me for the last two weeks of the GAC tour I was on – saw every show.

After A Different World, I did Hometown and told the story of how we came across it.

I was listening to songs for my upcoming record, probably 250 songs or more – song after song, CD after CD. During this time I went back home to North Carolina while my producer, Mark Miller, stayed up here in Nashville, and we hoped we had the same stuff.

When I heard Hometown, I just fell I love with it. I went to Mark and said, "Have you heard this song?" He was like, "I'm not sure; I'll take a listen." This went on for two months. I'd go up to him and say, "What about Hometown?" And he'd go, "Yeah, yeah, we're still listening to songs. I could sense something was the matter, and I kept wondering, "Why doesn't he want this song?"

Finally, he went to my manager and said, "There's no way I'm letting him put this song on the album. It's a terrible song."

So the day before I started recording my album, I burned a copy of Hometown and asked him to listen to it with me. Mark said, "I'll listen to it with you, no problem."

So we sat down to listen to it, and the first verse wasn't even over and Mark had shut his eyes, started nodding his head, and he said, "This is definitely not the same Hometown song I heard." So we ended up putting it on the album.

I hated that I only got to sing two songs, because of all the people that drove down. But you know what, I'm coming back to play the Opry again on April 7, and this time it'll be on TV, on GAC. So all my fans that couldn't catch the show this past weekend can watch it on GAC when I go back to play the Opry again in a few weeks.

When it was over, I didn't know what to do. Was I supposed to stand there? Say, "Thank y'all for coming out"? Finally, the announcer goes over to the podium and starts talking, and I'm like, "That's my cue to go. Y'all be good."

As I walked offstage, Jimmy C. Newman said to me, "You know that was great. There was just one problem." I'm panicked, like, "Oh, no, what was the problem." And he said, "That I've got to go out and follow it." Somebody told me later that he said, "I started my career playing after Elvis – now I've got to go out and follow this guy!"

Two big guys from my record label – Randy Goodman and Doug Howard – came up to me and told me, "Great job." I met Del McCoury, one of his sons and his son – three generations. I met a couple of kids who were backstage, took some pictures and signed some autographs. Little Jimmy Dickens came up to me again and asked if I was coming back. I told him, "I'm coming back, but next time, I'm going to hang out with you a little bit. I've got to hear some more of those jokes."

The band, the background singers, the sound guys, the light guys – everybody was completely awesome. It was so much better than another show I did last week. We were doing an acoustic show, so my bass player, Don, was playing acoustic guitar on my left and my brother, Rocky, was playing a drum on my right. After we finished soundcheck, somebody must've moved a speaker or something, because when we got up there to play, there was nothing in the monitors. My brother couldn't hear Don, and Don couldn't hear my brother – the only thing they could hear was me singing. And that was it.

Later on, you could barely hear the mains. I was hearing my guitar come through, but I was going, "Is Don's guitar on?" They were trying to fix the problem, but while I was playing the third song – I'm Good – the sound guy unplugs my guitar to switch out the cord. The one guitar we did have working, and they killed it. So, basically, I was singing the whole song a cappella. It was American Idol all over again.

I have never in my life wanted so bad to just lay down and disappear. I'm telling you, lights get hot, but there's nothing you can do.

After we finished the show we went out and had a really nice dinner with the radio station. When we were leaving, I thought, "The best part about stuff like that happening is the stories. You get some really good stories out of things like that."

The fans have put my video at No. 1 on CMT Pure Country's Pure 12 Pack Countdown. We've also been in CMT's Pick or Flick, where they put your video up against somebody's elses and the fans get to vote. Thanks to the fans, my video has won two weeks in a row. Guys, y'all rock. Anytime you have a chance to do anything on the Internet, you guys are on it. I might as well just start writing out checks. Thanks again, and I'll see you next week!

Matt Richenthal is the Editor in Chief of TV Fanatic. Follow him on Twitter and on Google+.

Tags: American Idol