Thanks to the Des Moines Register for the following article/interview with former American Idol rocker, Chris Daughtry:
Tickets to Daughtry's concert Monday night at the House of Bricks in downtown Des Moines sold out in two minutes - 235 tickets.
"It easily could've sold out Val Air Ballroom," said Sam Summers of First Fleet Concerts, promoter of the show.
The writer of the piece caught up with Daughtry, 27, last month for a phone chat during a tour stop in Tempe, Ariz.:
Q: Why book a club tour when you could have filled much larger venues?
"I didn't want to forget where I came from. This is where I started, doin' small clubs like that. ... We wanted to do this first to kind of work on our stage show ... but it's more up close and personal with the fans, and it just has a good vibe to it all over."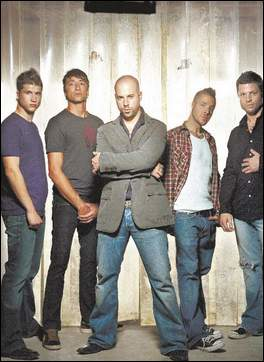 Q: Didn't you recently switch rhythm guitarists?

A: "Jeremy (Brady) quit right before the tour started, and my buddy Brian (Craddock) from Charlottesville, Va., is the new guy. As a matter of fact, I used to open for him back in the day when I first started with my first band."

Q: You've been playing a new acoustic song in your shows?
"Sometimes, I'll play one that I wrote with (Fuel's) Carl Bell ('When You Come Around'). Another one I wrote for the album with Rob Thomas ('You're in My Hands') didn't make the album. We're just testing it and seeing what the response is with the crowd. If fans like it, maybe we'll put it on the next album."

Q: Who's on your wish list for collaborations?
"It'd be really cool to work with Chris Cornell. ... Of course, I don't know if I'd want to do that because he would totally show me up, take me back to school a little bit."

Q: What were you like in high school?
"I was an artist. Art student. Theater student, all that stuff. I grew up as an artist and wanted to be a comic artist for a while. Kind of got out of that when I got into music. All the stuff about the arts, it really interested me a lot."

Q: Were you cool?
"I had a lot of friends, I didn't have any enemies. I guess people have said that I was pretty popular. I just felt like I got along with everybody and had a lot of friends."

Q: Do you keep in touch with other American Idol alumni?
"I saw Taylor Hicks and Katharine McPhee the other night at Clive (Davis)'s party. They seem to be doing very well. I keep in touch with them and Ace Young and Bucky Covington and Elliott Yamin. I try to talk to all those guys as much as I can."

If you wish to purchase Daughtry concert tickets, click here.

Click here to read the rest of the article.

Matt Richenthal is the Editor in Chief of TV Fanatic. Follow him on Twitter and on Google+.

Tags: American Idol