POINT PLEASANT, New Jersey (Reuters) - She may be a brash careerist willing to use XXX-rated pictures for publicity, or just a Jersey girl trying to get ahead, but Antonella Barba is easily the most famous person from this small seashore town.
Barba, 20, a semi-finalist in the American Idol singing competition, scandalized and titillated the television show's estimated 33.5 million viewers when a series of risque photos were posted on the Internet.
Ahead of this week's broadcast of America's most popular television show, also shown in more than 100 countries, the citizens of Point Pleasant mostly say they believe Barba is the victim either of a joke gone wrong, or of jealous rivals or perhaps even a jilted ex-boyfriend.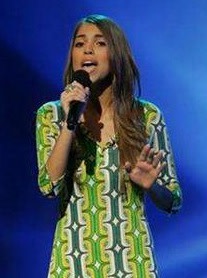 "She was given an unfair rap," said Matt Purpuro, 47, owner of Quicky Discount Oil Change Lube and Filter in the centre of town. "I don't see anything wrong with topless on the beach."

But Purpuro said his support for Barba would evaporate if it was really her in the photo performing the sex act. Others said that while they accept it was Barba in the topless shots, they believe the raunchiest picture is a fake.

Scott Grogin, a spokesman for FOX, declined to comment on the pictures, and said Barba herself, like other contestants, would not be permitted to speak to the media until after she is eliminated or wins.

American Idol has previously disqualified singers over accusations of assault and child pornography. Barba is set to appear on the show again on Wednesday.

Across the street at Four Point Refrigeration, people were less charitable, accusing Barba of allowing the photos to be published because she wants a modelling career and cannot make the grade on her singing.

"She isn't getting anywhere on that voice," said Michele Wells, 27, a secretary at the heating and air conditioning company.

Wells's co-worker Chris Adams, 22, said, "I think she probably put those out there to get a modelling job."

But love her or loathe her, Antonella is a big deal in Point Pleasant, an overwhelmingly white town of about 20,000 some 45 miles (72 km) south of New York City where serious crime is rare.

"Antonella, You Go Girl," says the board outside the fire house while owners of The Idle Hour bar, apparently unperturbed by the photo storm, put up a sign on Monday simply saying "Good Luck Antonella."

Outside the Super Stop & Shop supermarket, Allan Jones, 56, said Barba appeared to be doing just what some top models and actresses of the past had done to boost their careers, adding: "If she wants to do it, go ahead. It's a tough world."

Matt Richenthal is the Editor in Chief of TV Fanatic. Follow him on Twitter and on Google+.

Tags: American Idol