Isaiah Washington, Grey's Anatomy Shine at 38th Annual NAACP Image Awards
by Steve Marsi at . Comments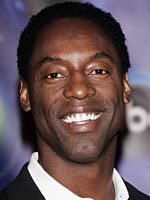 Oscar winners Forest Whitaker and
Jennifer Hudson
kept their winning streaks alive, while
Grey's Anatomy
star
Isaiah Washington
claimed a coveted prize at the 38th annual NAACP Image Awards Friday.
Washington, who has been sharply criticized for uttering a gay slur on the set of his hit show, scored Best Actor for a Drama Series.
"I'm humbled and honored to be recognized by the NAACP," said the 43-year-old Washington, who announced earlier this year he would seek counseling after receiving a torrent of negative publicity for his comments.
"The first time I was up here I felt deserving of something," the humble star added. "This time I feel privileged."
In addition, Grey's Anatomy won for Best Drama Series, Chandra Wilson won for Best Supporting Actress in a Drama Series, and creator Shonda Rhimes took home the honors for Best Writing in a Drama Series. While he did not win, James Pickens, Jr., was nominated for Best Supporting Actor and was on hand along with his fellow castmates.
Wilson, one of Grey's Anatomy's most honored stars, wished her deceased father was with her on what would have been his birthday.
"His little daughter is real happy to be standing here," she said.
"The Pursuit of Happyness," starring Will Smith and his son, won picture honors. Keke Palmer nabbed actress for "Akeelah and the Bee," and Djimon Hounsou took supporting actor for "Blood Diamond."
Democratic presidential contender Barack Obama won a literary nonfiction Image Award for his book, "The Audacity of Hope: Thoughts on Reclaiming the American Dream." Obama did not attend the ceremony.
Prince, who was awarded best male music artist, read a poem about protecting the environment.
"Fifty years from now, what will they say about us?" Prince asked.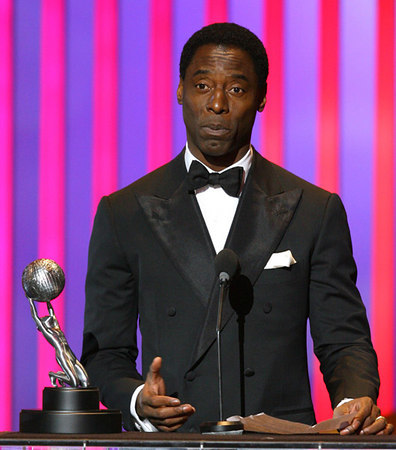 Congratulations to all who were victorious and honored for their fine work on this night. Follow the link for the complete list of winners:

TELEVISION CATEGORIES

Comedy Series: "Ugly Betty"
Director Of Comedy Series: Kenneth Whittingham, "The Office."
Actor In A Comedy Series: Tyler James Williams, "Everybody Hates Chris."
Actress In A Comedy Series: Tracee Ellis Ross, "Girlfriends."
Supporting Actor In A Comedy Series: Reggie Hayes, "Girlfriends"
Supporting Actress In A Comedy Series: Vanessa Williams, "Ugly Betty"
Writing In Comedy Series: Silvio Horta, "Ugly Betty."
Drama Series: "Grey's Anatomy"
Director Of Drama Series: Karen Gaviola, "The Whole Truth."
Actor In A Drama Series: Isaiah Washington. "Grey's Anatomy"
Actress In Drama Series: Kimberly Elise, "Close To Home."
Supporting Actor In A Drama Series: Omar Epps, "House."
Supporting Actress In A Drama Series: Chandra Wilson, "Grey's Anatomy"
Writing In Drama Series: Shonda Rhimes, "Grey's Anatomy," "It's The End Of The World...."
TV Movie, Miniseries, Or Dramatic Special: "When The Levees Broke: A Requiem In Four Acts."
Actor In A TV Movie, Miniseries Or Dramatic Special: Kadeem Hardison, "Life Is Not A Fairytale: The Fantasia Barrino Story."
Actress In A TV Movie, Miniseries Or Dramatic Special: Sophie Okonedo, "Tsunami, The Aftermath."
Actor In A Daytime Drama Series: Kristoff St. John, "The Young And The Restless."
Actress In A Daytime Drama Series: Tracy Ross, "Passions."
News, Talk Or Information, Series Or Special: Tavis Smiley, "Katrina--One Year Later."
Reality: "American Idol."
Variety Series Or Special: "An Evening Of Stars: Tribute To Stevie Wonder."
Children's Program: "That's So Raven"
Performance, Children's Program: Raven Symone. "That's So Raven"

MOTION PICTURE

Motion Picture:"The Pursuit Of Happyness."
Actor In A Motion Picture: Forest Whitaker, "The Last King Of Scotland."
Actress In A Motion Picture: Keke Palmer, "Akeelah And The Bee."
Supporting Actor In A Motion Picture: Djimon Hounsou, "Blood Diamond."
Supporting Actress In A Motion Picture: Jennifer Hudson, "Dreamgirls."
Independent Or Foreign Film: "An Inconvenient Truth."
Director Of Motion Picture, Television Movie: Spike Lee, "The Inside Man."
Writing For Motion Picture, Television Movie: Doug Atchison, "Akeelah And The Bee."

LITERATURE

Literary Work, Fiction: "Baby Brother's Blues," Pearl Cleage.
Literary Work, Nonfiction: "The Audacity Of Hope: Thoughts On Reclaiming The American Dream," Barack Obama.
Debut Author: "Letters To A Young Brother," Hill Harper.
Biography, Autobiography: "The Pursuit Of Happyness," Christ Gardner.
Instructional: "Mama Made The Difference," T.D. Jakes.
Poetry: "Celebrations: Rituals Of Peace And Prayer," Maya Angelou.
Children: "Moses: When Harriet Tubman Led Her People To Freedom," Carole Boston Weatherford.
Youth/Teens: "Letters To A Young Brother," Hill Harper.

MUSIC

New Artist: Corinne Bailey Rae.
Male Artist: Prince
Female Artist: Mary J. Blige.
Duo or Group: The Roots.
Jazz Artist: Glady Knight.
Gospel Artist, Traditional Or Contemporary: Kirk Franklin.
Music Video: Mary J. Blige, "Be Without You."
Song: "I Am Not My Hair," India.Arie.
Album: "Dreamgirls" (Soundtrack)

Steve Marsi is the Managing Editor of TV Fanatic. Follow him on Google+ or email him here.

Tags: Grey's Anatomy