Paula Abdul Opens Up About Antonella Barba, Bull$%it Media, More
by Matt Richenthal at .
Thanks to Entertainment Weekly for this revealing interview with American Idol judge, Paula Abdul.
PAULA ABDUL: I've never had so much bulls--- written about me in my entire career, 21 years in this business. Nobody, [including] my friends and my family, has seen me drinking, partying...EVER. I'm the squarest dork there is. I've worked my ass off my whole career. I challenge anybody, go look at any picture [of me] in my entire life and see if I'm [pretends to stumble] or even holding a drink.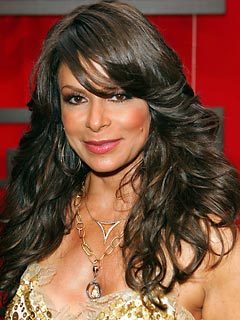 Maybe somewhere I'm making a toast, but I've never been drunk in my whole life. I don't do recreational drugs. I have the hardest job — mid-sentence I have to think of what I'm going to say, [and] sometimes I have to talk fast because I don't want to be edited. I have to think about what I'm going to say because I might not particularly care for [a contestant's] performance. How [can I express this] so they leave with a little bit of dignity and grace?


ENTERTAINMENT WEEKLY

: So you can sympathize with what Antonella's going though?

I can't imagine how it feels for someone who's not used to it. I do sympathize with [

Antonella Barba

]; I don't look at that crap. Today you remove people from pictures, you can move them around. [That's] the beauty of the Internet...you can put my head on any body. My head's been on bodies I wish I had! I'm saying I wish I looked like that...[but] it's not me. I close my eyes when I'm in front of a mirror. I don't look, I'm serious.

Now that you've seen the powerhouse of the girls this season, do you think it's a little unfair to have six guys and six girls?
I wish it was best of the bunch. We used to have best of the bunch the first two seasons. I understand producer-wise why they do [that]. The problem is, what if there were ten girls and two guys? It wouldn't make for that exciting of a show.

Who has surprised you in a good way?
Stephanie Edwards and Jordin Sparks. We lost Sabrina and Sundance, who I loved, it breaks my heart. Jordin being 17, she has probably the most natural self-assuredness [for someone so young]. Paris Bennett, Lisa Tucker, we have had great young kids, but there's something about Jordin that is older than her years. She's naturally gifted, she's not trained — she's an artist that I think could be around for a long time. I love Blake Lewis, I want him to follow his beatboxing with reckless abandon because that's his unique gift, and continue to work on his vocals.

So who's surprised you in a bad way?
I was openly shocked with Sundance leaving and I said, ''you are one of our most gifted singers.'' And I [also] said, ''[Sanjaya Malakar] no disrespect to you, congratulations to you.'' And for someone [like Sanjaya] at 17 to have such a smooth older-than-his-years tone...but experience-wise, vocally, there was no comparison [to Sundance]. But I understand how parents and young girls would love [Sanjaya].

Matt Richenthal is the Editor in Chief of TV Fanatic. Follow him on Twitter and on Google+.

Tags: American Idol
From Around the Web