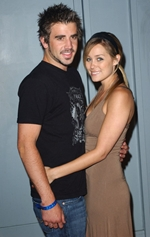 is bad ass.

Or at least he likes to think so.

After four arrests in four different U.S. states over the span of a year, we're willing to concede that he's a little hard (albeit moronic and in need of anger management counseling).

But according to the celebrity gossip site TMZ, a porn company has put the brakes on the alleged sex tape featuring Wahler and Lauren Conrad - partly because the content is "vanilla."

In other words, Wahler's no stallion in bed.

A source adds that The Hills star and Wahler are just "messing around" and the tape is weak.

Officially, SugarDVD says that it is retracting its offer ($500,000) for the tape because of Wahler's recent arrest in Seattle.

"We refuse to support any person who feels that it is in any way acceptable to rattle off racial slurs and slanderous language about African-Americans, homosexuals and the police department," the company said in a statement.

Not only is SugarDVD rescinding its offer, but it is reaching out to its network to discourage anyone from participating in a deal for the alleged sex tape. Which in our opinion is as fake as Heidi Montag's boobs.

Speaking of Ms. Montag and her smarmy boyfriend, Spencer Pratt, they have denied any involvement in circulating rumors about the tape, which Lauren Conrad herself has said isn't real.

Both Montag and Pratt have claimed, in a recent interview, that LC's obligations are outrageous and say they have nothing to do with it.

Matt Richenthal is the Editor in Chief of TV Fanatic. Follow him on Twitter and on Google+.

Tags: The Hills
Want more The Hills?
Sign up for our daily newsletter and receive the latest tv news delivered to your inbox for free!
More From TV Fanatic
All good things must come to an end. In other news, The Hills aired its final episode last night.

The second-to-last episode of The Hills was boring and full of bogus drama. Then again, that's how the show usually is, but this episode more than most.

The Hills' 100th episode was not one of its best. The reason? Well, there are many, but to sum up, it's been about 20-30 episodes too many at this point.

The Hills continues to illustrate why this is its final season. It's clear out of ideas and interesting people.
---