This edition of Grey's Anatomy Insider Caption Contest, LII (or 52, for those not versed in Roman numerals) lived up to expectations and produced a slew of good entries. Let's take a look at who won.
We got a lot of funny replies this week, and were certainly amused by the captions submitted by Becky M, izzie_omalley, greysobsessed, Dr McStacii, and Soup's on. Great work by all of you. In the end, we had to go with the caption sent in by izzieomalleyyucks! Not often enough do the worlds of Grey's Anatomy and Usher lyrics combine.
The winning entry appears under the photo, which is taken from "Time After Time." Scroll down for the full list of captions we received.
Thank you to all for playing, and for helping making us the top Grey's Anatomy site on the Internet. Good luck again this week!
This week's Caption Contest image: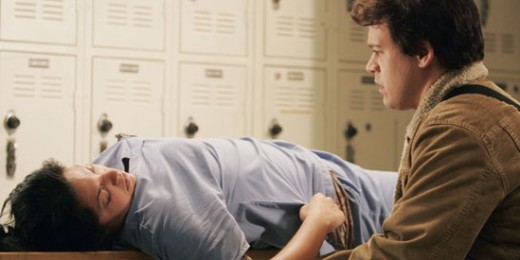 George: "Everything that I've been doin' is all bad, I got a chick on the side with a crib and a ride, I've been telling you so many lies, ain't nothin' good it's all bad, and I just wanna confess it's been goin' on so long, girl I been doin' you so wrong."

Callie: "Hey! That's from Usher's "Confessions, Part 1" How did you know? I love that song!"

Steve Marsi is the Managing Editor of TV Fanatic. Follow him on Google+ or email him here.

Tags: Grey's Anatomy, Caption Contests