Haley Scarnato Talks About Hair, Sanjaya Malakar and More
by Matt Richenthal at .
After Haley Scarnato was voted off American Idol after a lackluster performance of "Turn the Beat Around" on Tuesday's Latin night, the San Antonio native talked to reporters about short shorts, hair extensions and what it was like to work with J-Lo.
Is it true that you got Katharine McPhee's old hair extensions from last season?
Yes, that is true. I think it's cool. They can wash them, so it's fun. I think it's cool to wear the hair extensions of Katharine McPhee. She's Katharine McPhee!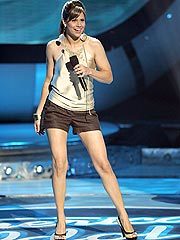 What was Jennifer Lopez like in person?

She was great, she was so helpful. She was very warm and comforting. You could tell she really wanted to help us. She was so down-to-earth and I think everyone felt that way about her. I got to spend about 10 minutes with her. It was a great experience to hammer out the song and stuff.

Did you get to meet Marc Anthony at all?
Yes, I did. That was really cool. He's so nice. He loves her, he just adores her and that's really great to see. They just look really happy.

In retrospect, do you think that not responding to Simon's criticism was the right move?
That's not who I am. On national TV I still want to stay in that frame of mind that you have to respect him. He is Simon Cowell. It does hurt a little bit, but you just try to brush through it.

The judges gave you conflicting advice week after week. How did you adjust?
Well, if I was going to be here next week I was going to wear a choir robe! I was going to be fully clothed. You just take it for what it's worth and try to brush it of and know that you still have to perform.

When Simon first commented on the way you looked, did you think about changing it at all?
I never really changed my look since Hollywood week. I showed my midriff and stuff. I want to stay true to who I am. It's fun to dress up and play the part of the week. With Latin week it's more of a sexier vibe. I don't think I wore less clothing than before. I just did the same thing. It was going to happen eventually, I figured. I got a good vibe from the judges and I didn't really get that before.

Does it bother you that you got eliminated before Sanjaya?
No. Sanjaya Malakar is a great personality and he's got a great energy backstage and onstage and I think he did a great job this week and I hope the best for him and all the other contestants.

How did the shorts idea first come up?

I thought about the shorts because it's a more upbeat kind of song and it would be comfortable to wear. And [stylist] Art just molded it together for me.

What's next for you?
I would love to get a record deal – that would be a dream come true, but I'm up for anything. I'll try anything, so we shall see.

Matt Richenthal is the Editor in Chief of TV Fanatic. Follow him on Twitter and on Google+.

Tags: American Idol
From Around the Web