Thanks again to TV Guide's American Idol experts for providing the following insight. Let's get right to it...
TVGuide.com: Did you see this weekend's Saturday Night Live? They did a bit with Bill Hader as Ryan, forever toying with the singers' emotions, and Maya Rudolph portraying Melinda as having no visible neck.
Rosanna Tavarez: [Gasps] That's so horrible!
Kimberly Caldwell: Oh, no! I'm sure that hurt her feelings.
TVGuide.com: When I spoke to LaKisha Jones last week, she said she definitely felt the burden being the front-runner, that everyone was expecting her to serve up some "I Am Telling You"-type showstopper every time, regardless of the genre.
Kimberly: I totally agree. She came out so strong, and everybody thought that that was how she would be every week, that she's the girl to beat, but you can't be perfect every single week. She lost a bit of her spark and her charisma, and others passed her up in the competition.
Rosanna: It's hard when people expect excellence from you. But at the same time, it's one thing if you have a bad week. If you continue to have bad weeks, people can't reconcile the difference.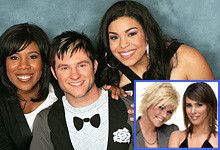 TVGuide.com

: I can't understand why the judges are now harping on

Blake Lewis

for "always" beatboxing, when he in fact went most of the competition without doing it at all.

Kimberly

: Exactly. I thought that it was really smart of him to not overdo it in the beginning, and to not overdo it throughout the competition. He's been singing, and technically his voice is not up to par with Melinda, but at the same time Melinda can't beatbox.

Rosanna

: Maybe his thinking was, "If I make it far enough, I'll use it as like one of my weapons," but... one song after another of [emulates beatboxing] is a little of an assault to the ears. It's interesting, but only for the occasional song, not consecutively.

TVGuide.com: Why do you think "Bee Gees week" was so tricky for the singers?
Rosanna: Because Bee Gees songs are made for the Bee Gees to sing. Really. They write their songs for their voices, for Barry Gibb's falsetto. So everyone, if they're going to sing it in full voice, which is the better option, they have to lower the key, and now the song doesn't sound the way it used to. It gets lost in translation.

TVGuide.com: How much harder is it during this leg to have to do two or more songs? Is it, like, ridiculously harder?
Rosanna: I think it is ridiculously harder.
Kimberly: Yeah, for sure. For the one song, you've got the CD player on and you've got that song pumping into your brain in between commercial shoots and photo shoots and doing press. But now you have two, so your head is scattered, and you might give a little more love to one song than another.... It's stressful. It's just so much pressure, because the show is so big.

TVGuide.com: Is Jordin Sparks freakishly tall, or is Ryan Seacrest... just not freakishly tall?
Kimberly: I think there's a little bit of both going on there.
Rosanna: I think Jordin is starting to discover the world of six-inch heels. [Laughs] Just kidding!


TVGuide.com

: Give me your best bit of advice for each of the finalists, starting with Blake.

Kimberly

: Go out there and swoon the ladies. Put on your charm and keep it on.

Rosanna

: Do a ballad. Do a ballad, stand still, don't beatbox.

TVGuide.com: Jordin?
Kimberly: She's so mature for 17, but she needs to be sure that she doesn't lose the young factor about her.
Rosanna: Do something young and fun.

TVGuide.com: And Melinda Doolittle.
Kimberly: Stay perfect!
Rosanna: Do something young and fun. [Laughs]

TVGuide.com: The latest TVGuide.com poll has 39 percent picking Jordin to win, with Melinda close behind and Blake a distant third. Do you think that might be how it plays out?
Rosanna: Hmm, what a difference a week makes, huh? I think that [order of finish] is where my mind was at.
Kimberly: I think that might be how it pans out, but I'm not sure. In other seasons, there's really been a front-runner, and this year I don't think that there is.

TVGuide.com: And lastly, what do you think about the announced American Idol "spin-off," which will search for the "next great American band"?
Kimberly: I think that's amazing. It's going to be great.
Rosanna: Um... it will be interesting to see what bands they find.

Matt Richenthal is the Editor in Chief of TV Fanatic. Follow him on Twitter and on Google+.

Tags: American Idol