Dean Banowetz is the American Idol hairstylist.
He gave Glamour an article recently. Here's an excerpt of it:
How much time do you have to do each person's hair per episode?
About 30 minutes. You'd think once the contestants get booted, we'd have more time for the rest, but it's always like there are more things to do.
Got any shortcuts for readers?
My biggest thing is, do not skip a proper blow-dry with a round brush, because then you don't have to curl it and you don't have to flat-iron it. When in doubt, hair accessories like wraps and headbands are genius. I hate to use her as an example, but when Paris was in court, she had a ponytail and a headband on. It honestly doesn't get any more simple than that. Anytime a celebrity goes to court, they are clean and simple, which I just think is hysterical.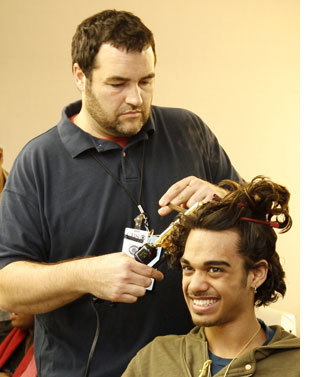 Which eliminated contestant (I wouldn't want to sway the current vote!) have you really loved doing?Sanjaya

was the most fun for me because he'd let me do crazy things to his hair. He'd say, "I wanna do a Mohawk," and I'd say, "Ponyhawks are new and fresh; Mohawks blow." I always said it was a 50/50 style: 50 percent will love it, 50 percent will absolutely hate it but 100 percent of these people will always remember it.

Was there ever a contestant who didn't want you to change his or her hair at all?
Well, I had many discussions with Chris Richardson about growing his hair out. But he didn't feel comfortable with it, so he would shave it himself. He still looks great. And when it's time for him to change, he'll change. I also told Chris Sligh, the one with the really curly hair, "I would love to straighten your hair," but he was like, "No, I don't feel comfortable," and that was cool.

So, how do you get everyone's hair so healthy- and shiny-looking?
My go-to product is the K-PAK system. There's a conditioner and a reconstructor, which makes hair strong. I use them all the time, and if I could, I'd use it on my dog. It depends on your needs, but once a week is good.

What did you think of that whole controversy when you mentioned on a radio show that Haley was reusing Katharine McPhee's extensions?
It's so not a big deal! You wash them and you sanitize them and you move on. Extensions are expensive; I have probably like $40,000 in extensions. I've also used some of the extensions I've used on Leeza [Gibbons] on Kellie Pickler.

What would Ryan look like if you didn't do his hair?
He has this wavy texture right in the front of his hair, and it stresses him out. I've done his hair for seven and a half years, so he's not really used to doing his own hair. When he does try to do his own hair, it makes him crazy. He has his natural color right now, and everybody's like, "Where are the highlights?" and I'm like, "We don't have time."

Do you do Simon's hair too? Why does he part it down the center like that?
I've had so many hair interventions with that man it's not even worth it anymore. Simon's a handsome guy. I always say this is his Donald Trump. Simon's so known for his hair, and his tight T-shirts. It's recognition, and I get all of that. He has this whole blow-dry thing that he does himself. I've just done the same haircut every two weeks for the past six seasons. Every single time I do his hair, I always mess with him, and I'm like, "Something new today?" and he's like, "Absolutely not!" Simon doesn't feel comfortable changing, and who am I to change him? I mean, it's gotten him this far.

Matt Richenthal is the Editor in Chief of TV Fanatic. Follow him on Twitter and on Google+.

Tags: American Idol