This is just a little gossip tidbit located in the New York Post, so take this for what it's worth, but ... Tyra Banks, New York's hottest dine-and-dash fiend, looked cozy with Knicks coach Isiah Thomas as they lunched at Club 66 in Midtown Tuesday.
"They looked like they were really enjoying themselves," our spy said.
More interestingly, the supermodel and Knicks fan, who arrived in her private limo, left the eatery with Thomas, jumping into the passenger seat of his SUV.
Thomas says he and Tyra Banks are just friends, but this fits the profile of what interests him. Huge upside, but does show signs of being flawed.
Isiah strikes the Scoop staff as the kind of guy who would buy a $6 million ring for a girl after she impressed him for only a short time. This kind of thinking can only lead to bad things... like divorce, or Jerome James.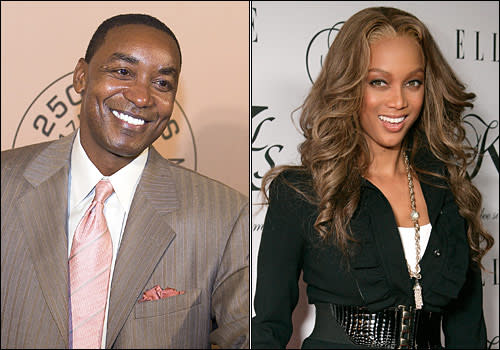 Banks' hit reality TV modeling competition, America's Next Top Model, returns with an all-new episode this evening.

As for Thomas, he's rumored to be negotiating a deal to host the new reality TV spin-off Deadliest Catch: NBA, in which aspiring GMs battle to snag the most overrated, overpriced and thuggish players during the offseason.

Matt Richenthal is the Editor in Chief of TV Fanatic. Follow him on Twitter and on Google+.

Tags: Reality TV