Yarr, what sort of mateys thought it would be oodles of fun to live on porridge, sleep in cramped bunks in the hull of an old sailing ship, and risk life and limb hunting through really rugged terrain for clues to a pirate treasure?
"They're tough," Mark Burnett told TV Guide about those involved in his latest adventure reality show, Pirate Master, which premieres on May 31.
Sure, there's a total of $1 million at stake hidden around the Caribbean island of Dominica, but the daunting physical demands make Survivor's challenge look wimpy.
"It's a really interesting diverse cast," says Burnett. "Everybody's a good athlete, but what they've learned is being a great pirate, you have to be really smart. When you're exhausted and you're trudging through a jungle, jumping off waterfalls or swimming up canyon lakes, you still have to think about what the pirate clues are.
"It takes a lot of brains to decipher the clues. It's very, very hard. On top of that they're trying to sail a three-masted ship with huge sails. It's epic!"
Here is a first look at the men and women of Pirate Master; who, Burnett says, "knew a lot about the world of pirates and all agree had they been born 250 years ago, they'd have like to have been pirates."

Christa DeAngelo
Age: 29 Hometown: Tamaqua, Pennsylvania Occupation: ex-military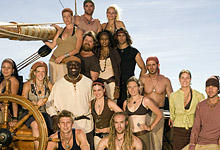 Ben Fagan
Age: 23 Hometown: Boston Occupation: student/musician
Louie Frase
Age: 43 Hometown: Fishing Creek, Maryland Occupation: marina owner

Kendra Guffey
Age: 38 Hometown: Los Angeles Occupation: dive master

Jay Hatkow
Age: 37 Hometown: Detroit Occupation: Automotive parts salesman

Azmyth Kaminski
Age: 26 Hometown: Los Angeles Occupation: music producer
Cheryl Kosewicz
Age: 35 Hometown: Sparks, Nevada Occupation: fundraiser

John Lakness
Age: 25 Hometown: Carlisle, Massachusetts Occupation: scientist/Chippendale dancer

Joceyln "Joy" McElveen
Age: 21 Hometown: West Columbia, South Carolina Occupation: receptionist
Elicia "Jupiter" Mendoza
Age: 30 Hometown: Los Angeles Occupation: bartender
Joe Don "J.D." Norton
Age: 36 Hometown: Ft. Wainwright, Alaska Occupation: smokejumper
Nessa Nemir
Age: 29 Hometown: Berkeley, California Occupation: make-up artist
Christian Okoye
Age: 45 Hometown: Rancho Cucamonga, California (and originally from Nigeria) Occupation: former Kansas City Chiefs player
Laurel Schmidt
Age: 21 Hometown: Los Angeles Occupation: glass blower
Alexis Shubin
Age: 26 Hometown: Laguna Beach, California Occupation: fashion publicist
Sean Twomey
Age: 27 Hometown: Venice, California Occupation: bartender