At some point, American Idol producers must have shaken their heads, wondering how they passed over Jordin Sparks, whose soulful singing and girl-next-door likableness have gained fans week after week.
Last summer, the Glendale, Ariz., native tried out for the FOX hit in Los Angeles and didn't even make it past the first round.
"I know she worked really hard to get in shape just to learn how to perform a little bit more," said Kris Siegrest, Sparks' personal trainer and a longtime family friend. "Even when she went the first time, I was shocked she didn't make it."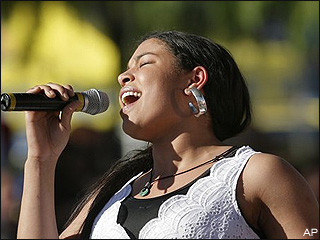 But since impressing the judges a few months later with "Because You Loved Me," the 17-year-old is now the youngest of three remaining "Idol" hopefuls. She is competing against

Blake Lewis

, 25, and Melinda Doolittle, 29, to win the big prize.

Siegrest said it is surreal that Sparks has to go out "incognito" when doing something as simple as cheering her younger brother, P.J., at a basketball game.

"She wore baggy clothes and a cap. Even there she got recognized," Siegrest said. "I thought that was really cool in the mix of all the business, she wanted to watch her brother play a junior high game."

The daughter of retired NFL player Phillippi Sparks, Sparks spent most of her childhood in Glendale, a Phoenix suburb. Singing was a passion from the beginning. Churchgoers and family were usually her only audience.

Bobb Cooper, artistic director at Valley Youth Theatre in Phoenix, remembers a 13-year-old Sparks only being cast in ensemble roles, like a poppy in "The Wiz."

"She really has matured at gaining control of her voice. She gets better every week," Cooper said.

Siegrest said having a father who was a pro athlete should help Sparks deal with her growing fame. At an early age, she experienced what it was like being in the public eye.

"There's some responsibility that comes along with that, and I think she's very aware of it," Siegrest said.

Pandy Raye, Sparks' former guitar teacher, said the teen's family would make sure she stayed role-model material.

"Every decision they make, they really take a lot of time to see 'OK, how is this going to affect her?' She's just so grounded," Raye said.

During the last year, Sparks was home schooled so she could focus on music. In September 2006, she snagged the title Arizona Idol, a competition put on by the local FOX affiliate, and a second chance to audition for the show.

Glendale has been throwing support behind Sparks with elaborate, outdoor American Idol viewing parties at a local shopping complex.

Since March 20, the city of about 245,000 has seen hundreds of people from all over the state turn out to watch Sparks on two 14-foot TVs. The city also has been distributing free "Glendale supports Jordin" posters at its visitor center.

On Friday, about 5,000 people weathered triple-digit heat to glimpse Sparks during a hometown appearance.

Leeann Corless, a 34-year-old single mom, and her 10-year-old son have attended every viewing party since April. She believes Lewis will be the next one shown the door.

"I always thought it was going to be between Jordin and Melinda," said Corless. "Of course she's going to be the winner. She's the most outgoing and she's the most charitable person."

The cheerful disposition is no act, according to Siegrest.

"What you see when she speaks and is giddy and kind of funny and smiling all the time, that's Jordin," Siegrest said. "What you're seeing is really her. She's fun and not afraid to look funny."

SOURCE: The Associated Press

Matt Richenthal is the Editor in Chief of TV Fanatic. Follow him on Twitter and on Google+.

Tags: American Idol