The following article on one of the first American Idol finalists is courtesy of The Flint Journal...
Justin Guarini is on a roll.
It's kind of a quiet one, but it's a roll all the same.
The first season runner-up in American Idol, the 28-year-old with the million-dollar smile and golden voice has been treated more like chump change since the Fox mega-show pulled him out of obscurity five years ago this summer.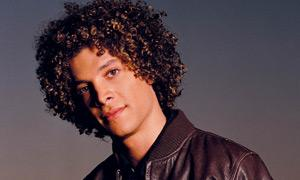 His debut album tanked, much to the delight of haters everywhere.

There was that dreadful "From Justin to Kelly" movie, a box-office flop cited by some as one of the worst movies ever. A few lean years followed. Everyone but Guarini himself had counted him out.

But Guarini is very much on his way back. And on his own terms.

"It's about perserverance," he said last week. "You've got to persist."

Boy, has he.

Born in Georgia, Guarini joined the Atlanta Boys Choir at age 4. His father, a former Atlanta police chief, and mother, a TV journalist, divorced when he was young. He moved to suburban Philadelphia with his mom, assumed the last name of his stepfather and joined the Archdiocese of Philadelphia Boys Choir.

A performing career seemed a certainty as Guarini performed with an a cappella group, Midnight Voices, and worked in theater as a writer-director.

He was preparing for a possible role in "The Lion King" on Broadway in 2002 when he auditioned for "Idol," then a summer series based on a popular British singing talent show. "I didn't really know what the show was when I first auditioned," he recalled, so winning wasn't a consideration at first.

"When I found out what it was, my goal was to make the Top 10," he said, which would ensure his inclusion on any "Idol" CDs and the subsequent concert tour. "From there, it was just ride the roller-coaster, and it's been a roller-coaster to say the least."

He got rave reviews on the tour, but the release of his debut CD, "Justin Guarini," was held up as his label, RCA, and management, the show's 19 Entertainment, worked winner

Kelly Clarkson

's CD first. His album came out in June 2003 and died a quick death. The same happened to the "From Justin to Kelly" movie.

Guarini battled bitterness and anger. "There was a point where I just threw up my hands. I stepped out of the spotlight. I thought, 'This is ridiculous,'" he explained.

"I said, 'Hey, look, this is not the direction I wanted to go in. I pulled back. I didn't go out, I I didn't go to events. I left the country on vacation. I was over it. I was over being spit on in the media. I was over really having to face the firing squad over projects I had very little to do with creatively."

He did charity work and performed at several benefits until, he said, "I worked my way up to doing another record." That record was "Stranger Things Have Happened," a critically praised collection of jazz and pop standards released in late 2005 on his own Justin Entertainment Inc.

Guarini didn't shop the album around to major labels. (He said the few labels he did contact weren't interested.) Instead, he sold it mostly via his Web site, www.justinguarini.com.

A guest appearance on the TV Guide channel's "Idol Chat" program in 2006 led to an invitation to join the show as a permanent co-host in January of this year. His success on that show, as well as the cable network's "Idol Tonight," helped kick-start something of a comeback for Guarini. He also has a major role in a small film due this year called "Fast Girl," about a female race-car driver.

"It was a catalyst for a lot of really good things," Guarini said of the "Idol" talk show. "It was visibility on a national scale. It was close to home, 'Idol'-related. I think it was a really, really good way to, I guess, step back out into the spotlight on a national TV show that people watch and associate with 'Idol.' They associate me with 'Idol.' All the stars aligned. It was a good project for me."

It may also set up what he hopes will be his return to mainstream pop. Guarini has been co-writing songs, about two dozen at last count, for a new album he hopes will put him in the middle of the pop music radar.

"We're in the process of really narrowing it down to the hits and (then will) go back to the major labels from here with something that is much stronger than the first project and the second project," he said.

Matt Richenthal is the Editor in Chief of TV Fanatic. Follow him on Twitter and on Google+.

Tags: American Idol