Move over, Kelly Clarkson.
There's another new album arriving in stores this month from a former American Idol star. True Beauty, a vocal project with a faithful purpose, is the first effort by Mandisa.
Her earlier release, "Only The World," recently reached the #1 spot of POP Billboard's Hot Singles Sales. Radio DJs around the country have been playing and loving it, noting that they're sure to be hearing more from Mandisa soon.
Here is a review of the CD by Blog Critics:
Mandisa, an American Idol contestant who was eliminated in the ninth round, refers to herself as "a plus-sized, thirty-year-old black woman whose heart belongs to Jesus."Â  She believes that her ninth place finish was not a punishment but rather the fulfillment of God's purpose for her life.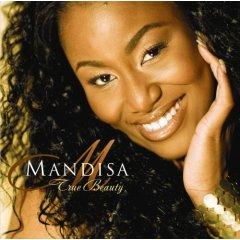 Besides the highly anticipated True Beauty album, Mandisa has also recently published the book IDOLeyes, a telling of her life from unknown to possibly the most recognized former

American Idol

.

The title, True Beauty, is Mandisa's message about "Visions of perfection/Such a misconception/'Cause the real connection is deeper than the eye can see." It exemplifies the desire of women to be known and respected for who they are within.  Singing from personal experience, it is a Biblical message that all women in today's modern world need to hear and believe.

Highlights from the album are "Oh My Lord," a lively tune with Negro spiritual rhythms which includes the Fisk University Jubilee Singers. "It's a brand new day/Somebody raise your hands and sing! ... You set me free/I belong to the King of Kings."  This is truly a song of thanks and freedom!

"Love Somebody," written by TobyMac and Aaron Rice features TobyMac and his band Diverse City. Reminiscent of the disco era, "Take a chance and pass it on/ And love somebody."  This is not a romantic love song, but rather an example of how each of us can affect the world, "Love your neighbor as yourself."

"God Speaking" relates how God breaks through to those who are listening. Flowing gently, it summons the richness of Mandisa's vocal abilities.

"Voice of a Savior" was co-penned by Sam Mizell and Matthew West. "You and I are not that different/....All we want is a hand to reach to."  A beautiful song, Mandisa emphasizes that we are all the same — looking for Christ to fill the void within us.

Do you want to dance?  Beginning with the clink clink of chains, the single "Shackles" requires the listener to throw off the binds that hold him from dancing.  This song will have even the most introverted feeling like moving his feet.  The syncopation is written right into the middle to spice it up.

"Steal My Joy" lifts up the depressed, giving hope to those oppressed by the struggles of life given to us by the world.  Sweet and short, it's uplifting.

True Beauty demonstrates Mandisa's range, variations in style, breath, and vibrato. She carries her listeners on a journey through her Christian and public life. It is a life in which she's struggled, rejoiced, endured tests, and has found freedom. It is a debut worth listening to.

Matt Richenthal is the Editor in Chief of TV Fanatic. Follow him on Twitter and on Google+.

Tags: American Idol