The following is taken from a newspaper in San Antonio, written prior to Sunday night's show...
When "American Idols Live!" is in town who's got time to plan a wedding?
Hometown sweetheart Haley Scarnato, who is tying the knot soon, will be among the performers tonight at AT&T Center. She and a few of her American Idol cohorts - winner Jordin Sparks, Sanjaya Malakar, Chris Sligh, Melinda Doolittle, Phil Stacey - were on hand at the venue on Monday afternoon for some quickie media interviews.
All of the finalists looked relaxed and casual.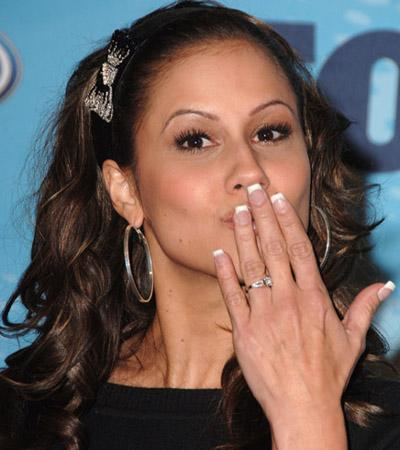 Scarnato was bubbly and cute as always. While she revealed that she has fall colors picked out for upcoming wedding, she admitted those plans aren't exactly at the forefront of her mind at the moment.

"My focus toward the wedding has kind of, uh, gone away," she said with a chuckle. "But when I get back home I'll start thinking about the wedding more. It's too hard to plan on the road."

Onstage tonight, she'll sing Martina McBride's "When God-Fearin' Women," among others. A stylist is responsible for her look onstage, Scarnato said a bit coyly.

Her future plans, include recording in Nashville. Will she remain in San Antonio? "I would love to stay here," Scarnato said.

"Now, I'm just kind of living the dream. I'm on tour now," she said. "It's like a family."

Stacey is talking to labels in Nashville and hopes to have a country music album out by the end of the year. "For me, that's where I belong," Stacey said. "I'm a country artist that has roots in gospel."

Stacey said he is most grateful for the new friendships and for meeting stars like Bono and Gwen Stefani.

"There were times that I was so nervous meeting those people," he noted, saying that he was literally shaking when he was trying to sing for McBride. All of them were almost too nice.

He's very much aware that people are looking at him for inspiration. "It's funny. I guess people are just desperate for role models these days and people that they can look up to," he said. "I would put anyone that's here in that role. That's one of the cool things about the show. It's very wholesome, family-oriented show."

Sparks is ready for her solo guitar spotlight on Jewel's "You Were Meant for Me." "It's one of the first songs I taught myself on guitar," she said. "I still feel very vulnerable when I'm out there. There's an Em and a C, D and D-sustain."

She won't reveal anything about the one track that she has recorded for her debut album, except to say that it's "a radio song" and "kind of Beyonce-ish."

Sligh works the room with a perpetual smirk. He doesn't seem too swept up with the American Idol hype. He likes to remind anyone in earshot that he was a seasoned musician before he was ever on the show. "I came in as a fully formed musician. I knew what I wanted to do as an artist," Sligh said. He acknowledged butting heads with the judges was inevitable.

"The judges comments are more about the TV show, then they are about real life," he said. "They say it's a singing competition. But it's not really a singing competition. It's more about being able to turn into a star."

Melinda Doolittle said that she got through the nerve-wracking experience of American Idol with her family, "the best support group in the world."

"I wouldn't have made it without them," Doolittle said. "It's slightly traumatic. It's like, 'What in the world have I gotten myself into?'" But it's worth it, she added.

"I went into it so afraid. And I was doing it in spite of my fear," she explained. "I came out of it with a confidence . . . the most priceless thing," said the former back-up singer.

In a perfect world, the record she would make is "old-school meets the new-school." "The best way I could describe it, is a life stories album," Doolittle said. For now, she'll settle for driving fans crazy with her duet with Malakar on "Proud Mary."

Malakar is basking in the glow that comes with the screamfests at these shows. He doesn't seem to mind one bit. The diminutive singer walked into the interview with a Bob Dylan-style cap. "We can hear (the screams) as well, so that's kind of good because we probably couldn't hear ourselves," he said. "it's really fun. The first time I ever hear those loud screams it was totally overwhelming, like, 'whoa!'" he said.

"I really had no idea what it was like," Malakar said. The hair mania took on a life of its own. "Well, actually America kind of gave it life when they reacted to my hair," he said. "The first time they reacted it was weird." That's when he decided to have fun with it.

He said he sometimes feels pressure "to be Sanjaya." "On the show, I was just completely myself," Malakar said. "I don't have to necessarily 'be Sanjaya.' It's cool. I can just go out there and be myself."

Does he do things to make fans go wild? "Yeah, I do it sometimes," he said with a grin. "It's cool to go out there and make people scream."

Matt Richenthal is the Editor in Chief of TV Fanatic. Follow him on Twitter and on Google+.

Tags: American Idol