As she leads the American Idols Live tour, Jordin Sparks is the subject of a recent article in her home state Arizona Republic. Here it is...
For years, Olivia Nunley simply walked upstairs to a home nursery to watch close family friend Jordin Sparks sing and play guitar for her three young daughters.
To get the same show this time around, Nunley followed slightly different protocol: she stood in line and bought tickets.
"It's so foreign . . . its like our Jordin isn't our Jordin anymore," the Peoria resident said.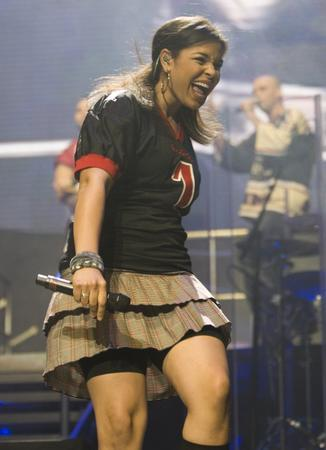 On Wednesday night, thousands of concertgoers embraced Sparks as their own when they saw the hometown girl sing as part of the 2007

American Idols Live

concert tour when it stopped at Glendale's Jobing.com Arena.

An estimated 14,000 fans filled the arena. Several in attendance said they came solely because of Sparks.

The show was the American Idol winner's first Arizona concert since she taped the show's hometown visit episode in May at Westgate City Center. The tour includes the top 10 competitors of last season's Idol, including Sanjaya Malakar, who sang backup on several songs.

Before the concert, Sparks answered questions while sporting a jersey that read "Glendale's got game," a present given to her by Glendale Mayor Elaine Scruggs during her Westgate performance.

In an interview with The Republic before the concert, Sparks said she has not been asked to sing the national anthem at the 2008 Super Bowl hosted by Glendale, but that regardless she would try and get tickets to the game.

"I'm a football freak, I would love to sing at the game if I can," she said.

Shortly after the interview, several familiar faces gathered outside at the arena's will-call box.

Many were regulars from the Tuesday night viewing parties held at Westgate while Sparks was on American Idol.  Just like at the parties, hundreds of fans toted glittery Jordin posters and wore Jordin T-shirts in the Westgate courtyard.

Sandra Witt and her daughter, Danielle, wore hot pink and white "team Jordin" shirts. The pair drove from Tucson to support the Arizona headliner.  Sandra said she is proud that Sparks is a local, but also because she is the show's first biracial winner.

"She's been very inspiring to my daughter and very positive. We can relate to her very well because we come from a mixed family," she said.

Sparks and the other traveling Idols had little time to take in Valley attractions. The group left soon after the concert for San Diego.

"It's so weird to be home, but not actually be home," Sparks said before the show.

The concert did offer a little time to spend with family and friends. A handful of Sparks' former high school classmates and young cousins visited with her backstage.

To welcome the other contestants to her hometown, Sparks' uncle made gift baskets that included T-shirts and John Deere hats. The group also went to Sparks' house for a home-cooked turkey dinner.

"Her entire family has just been so welcoming," said Haley Scarnato.

Matt Richenthal is the Editor in Chief of TV Fanatic. Follow him on Twitter and on Google+.

Tags: American Idol