Thanks to Entertainment Weekly for this interview with soap opera star and former American Idol, Costantine Maroulis...
ENTERTAINMENT WEEKLY: What happened to the deal with ABC?
CONSTANTINE MAROULIS: We had a show we were developing, but it didn't work out. When Kelsey Grammar calls you up, you put a year of your time into developing something because he's a legend. You have to pursue these opportunities, see what they are, and nurture them. You have to take time to see if there's something there.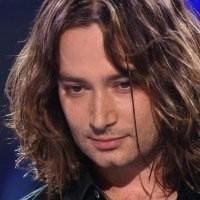 Tell us about your character on The Bold and the Beautiful.

I play Constantine Parros, an international rock star, which, of course, I'm not. He's a really cool, hardworking guy who's producing records and looking for artists. He becomes fascinated with Phoebe Forrester [played by

MacKenzie Mauzy

]. She's the heiress to Forrester fashion house, which is a big f---ing deal. The whole show is based around this family, and she's really beautiful and can sing incredibly well. I see this YouTube-equivalent [video] of her and I say, ''Look at all the buzz this girl's getting, look at all the views, she's got the paparazzi after her...'' She's a good girl, though. She's like Hilary Duff but with Paris Hilton exposure. So I see potential and I want to produce her record. And, of course, a romance ensues.

You perform your songs on the show as well; do you give her the staple Constantine stare?
Definitely. It might have been written into one of the stage directions. The script said, ''Constantine gives her 'the look.''' I laughed out loud, of course. I take my work really seriously, but that's funny s--- when you see that written into the script.

Certainly it must be easier to gaze toward Phoebe than Simon Cowell.
Yeah, a little bit. Although he might have liked it. He did call me ''smoldering.''

You went from Elimidate to American Idol to The Bold and the Beautiful — some may say there's some cheese there.
I say it's cool to be cheesy. But also look at Boston Conservatory, [the] Rent [tour], record entrepreneur, classical actor. You can see all sides of it. As long as they're talking about me, that's all that matters.

Why did you choose to self-release your album?
It just ended up becoming the best situation for me. Anytime you can have control of an album's direction, that's a good thing. I own this record. I'm the label — I lay out all the money for the studio, the musicians, the producers, rights and clearances to songs.... There's a huge advantage and a much bigger profit margin for units sold if you can do it like this.

Care to predict how it will do?
If we can sell enough to continue making records and stay on the road long enough to get more people into the music...that's the goal. Numbers are irrelevant now. It's about who your target audience is and trying to move them. I'm realistic. I know I'm not going to be like the major artists out there. I think that's so silly when artists talk about [how much they'll sell].... I've taken the time to consciously build a career. I wanted to do Broadway, I wanted to do soap operas, I wanted to start my own label, I wanted to host and write. There were all these ''I wannas'' and I got to do them all.

Would you say you're proof that you don't have to win to have a successful career?
I'm just a hardworking kid from New York. I'm about perseverance. You pound away, you keep working and things will happen. If you're not fortunate enough to be Carrie Underwood, you have to f---ing bust your ass. That's it. I've stayed out there without being too much out there. I've quietly done good work. I plan on sticking around for a long time as a result of it. Then one day, I'll move to Greece and retire with my 10 children.

Matt Richenthal is the Editor in Chief of TV Fanatic. Follow him on Twitter and on Google+.

Tags: American Idol