Kellie Pickler recently sat down with Star magazine. Here is the interview with the former American Idol finalist...
Are you still touring?
Yeah, I'm on the Brad Paisley tour right now. I am having so much fun out on the road with Brad. Every night its something new there is never a dull moment.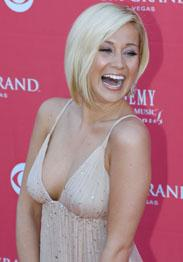 Tell me about the CMA Music Festival.

It was so much fun. I've never performed in a stadium. I was very privileged when they asked me to be a part of the special. I actually got to surprise this girl — she is a big fan of mine so I surprised her with tickets to the show. I took her backstage, she had a wonderful experience and we had so much fun getting to know each other. I think I made a good friend.


What was the most memorable part of CMA Music Festival?

Oh my gosh the whole thing. To be able to share the stage with all these artists that I've admired my whole life, there's just nothing better. I'll never forget coming offstage and Jewel said to me "Great job, Kellie. I love your song, you did an awesome job." I'll never forget that. She was very very nice and beautiful. That was a special moment for me.


Being famous and being on the road, are there any down sides?

You have to take the good with the bad. I really can't complain but I guess if I had to, even though I don't like to, it would probably be that it's kind of weird when you hear different rumors about yourself. My friends had read in some magazine that I was getting married, and it's just weird. I guess things can be misconstrued and fabricated. You just have to laugh at it.


For the record you're not getting married [to boyfriend Jordin Tootoo, a hockey star]?

I'm not getting married, I'm not having a baby. I am adopting a kittens, that's about as close to motherhood as it's gonna be for a while. Trust me, I am about as far away from the altar as it gets.

What are you naming your new cat?
Pickles. I thought it was destined to be that!

Matt Richenthal is the Editor in Chief of TV Fanatic. Follow him on Twitter and on Google+.

Tags: American Idol