Having already spoke with Jordin Sparks and Melinda Doolittle about the current American Idols Live Tour, TV Guide next sat down with Phil Stacey...
TV Guide: How's the tour going?
Phil Stacey: I'm holding up. Actually, I'm having the time of my life. I just miss my family.
TV Guide: Have your wife and baby been out to visit?
Phil: They were on the road with me until Nashville. Now I haven't seen them for a few weeks. Then we'll meet up with them again in San Diego.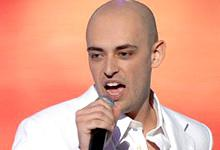 TV Guide

: Has your wife sent you photos so you don't miss anything with the baby?

Phil

: Yeah. McKayla started crawling while I was here. And when I saw her in Florida, my wife started feeding her solid food and I was like, "What are you doing?" She was like, "It's time, honey. We can do that now."

TV Guide: What are you doing to stay in touch on the road?
Phil: Other than talking on the phone, there's really not a whole lot I can do. I'm about to buy them an Apple computer so we can do iChat and actually see each other when we're not together. But hopefully they'll be with me for most of it from here on out.

TV Guide: What are you enjoying most about being on tour?
Phil: I enjoy being with my friends, Blake, Chris Richardson, Chris Sligh, Sanjaya.... We're all on the bus together and we're having some good times. I really enjoy meeting the people who got us here and saying thank you to some of the more hardcore supporters who not only voted for you, but recruited all of their coworkers and friends to vote for you.

TV Guide: Any funny stories about fans you've met?
Phil: Well, I took Chris Sligh to my house in Jacksonville, Florida, when we were there. On our way to the auditorium — our wives were in the backseat — this car kept catching up with us. We looked over and it was this couple, and the wife was taking pictures of us while we were driving. It was funny.

TV Guide: Have you been playing a lot of Xbox on the tour bus?
Phil: Well, you know, we can't hook the Xbox up to the TV. [Laughs] So we all got our little individual personal PlayStation Portables. But usually, we just sit around and talk and hang out.

TV Guide: What are you snacking on backstage?
Phil: What am I not eating backstage. I've gained like 20 pounds since I've been here and we've only been on the road for two weeks! When we showed up in Arizona, for lunch they had jambalaya. Sometimes it will be Italian food or whatever. Then, of course, there are unhealthy chips that we obliterate before the show even starts. There's lots of bottled water to keep our voices healthy, and lots of Throat Coat.

TV Guide: All Melinda talked about were Pop-Tarts backstage.
Phil: Yeah. We actually went through a couple of shows without having any Pop-Tarts backstage. I was like, "Where's the Pop-Tarts? I need the Pop-Tarts!" I love them. The strawberry ones with frosting and sprinkles? I can't get enough of those. I'm kind of glad when people forget to bring the Pop-Tarts into our room because I will eat them. [Laughs] I'm also eating Snickers and the Reese's cups, and they don't even sponsor us. I just can't stop eating.

TV Guide: Any memorable moments onstage?
Phil: Yeah. I was singing "Into Your Love" with Gina Glocksen. We had just been backstage reading an article in the paper about Haley Scarnato's legs. After the song is over, I was like, "Ladies and gentlemen, Gina Glocksen!" That's when she usually says, "Phil Stacey!" but this time she said, "See, America? I have good legs, too!" and she just walked off the stage. That really made me laugh. Then, the night before last, we were in San Antonio and at the end of our duet, she just stopped singing and started laughing out loud into the microphone.

TV Guide: You've been to so many cities. Have you had a chance to do any sightseeing?
Phil: Not really. I think we've actually been out one time, in Houston. The guys and I basically spent the entire day at Guitar Center, each of us spending a small fortune on gear that we dragged along with us and are going to end up having to send home anyway because we don't have space for it on the bus.

TV Guide

: Did you buy guitars?

Phil

: A couple of people got guitars. I actually bought a large keyboard, but there's just no space for an 88-key keyboard on the bus. All of us guys are songwriters and while we're on the road, each of us has our own project studios. I use ProTools. I have an Apple with me so I'll take out that keyboard and record songwriting demos. Chris Richardson has his Martin acoustic guitar and Chris Sligh brings his bass along. What we'll do is basically share our assets so all of us can record good-quality song demos for our stuff.

TV Guide: Do you already have a record deal, or are you shopping a demo around?
Phil: There are things in the works. I haven't signed a recording contract yet but there are definitely different things I've been in discussions with.

TV Guide: What kind of music are you writing?
Phil: I've been writing a lot of country music. That's kind of my roots. I'm definitely influenced by gospel music. Some of the stuff that I'm writing is a little edgy, too. It's very rock-influenced country music, but some of it's really tame, too, and pretty traditional. It'll be interesting to see what the label ends up wanting to put on the record.

TV Guide: Have any of the other guys written for you?
Phil: Yeah! Chris Richardson and I have been writing a lot. He's just a phenomenal writer. He may end up with tracks on Jordin's record and Blake's record. Who knows, you know? Chris Sligh has written me some songs....

TV Guide: Last question: What did you bring on tour to remind you of home?
Phil: I have a picture of my two daughters that I actually carry with me everywhere. When I go in the dressing room, it goes in there with me, too.

Matt Richenthal is the Editor in Chief of TV Fanatic. Follow him on Twitter and on Google+.

Tags: American Idol