LaKisha Jones describes life on the American Idols Live! tour in terms that are upbeat but no-nonsense.
"Every day, I see a new hotel, and every day, I wake up doing something I love to do, so I can't complain about that," she says.
The tour  is coming to the Palace of Auburn Hills on Sunday. Besides Jones, the lineup includes winner Jordin Sparks, runner-up Blake Lewis, fan favorite Sanjaya Malakar and the rest of the top 10 finalists.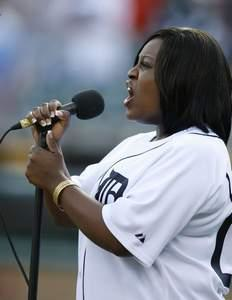 LaKisha says she's looking forward to returning to Michigan: "I have a special surprise for my hometown toward the end of the show," she says. "It involves what I'm singing."

So... what is it?

"I'd like to keep it a surprise," she says.

The former bank teller, who's been earning good reviews on the tour, says she hasn't been nervous about singing for thousands of fans at big arenas.

"I'm calmer now than I was on the show because we're not competing for anything anymore. We don't have to impress the judges and hear that constructive criticism they give us week after week," she says, sounding as if she doesn't miss Simon Cowell's snippy critiques of her wardrobe one bit.

The hardest part of crisscrossing the country is missing her daughter, though. Jones says Brionne, who's 4, visits her every few weeks and stays in Flint with LaKisha's mother the rest of the time.

"If there was anything I could change, it would be having my daughter with me more often and having help with me on the tour to take care of her. When I'm able to call the shots, then she'll be there."

And now for the big question. Has she met any good celebrities as a result of being on Idol? "I did," she says, citing Tom Cruise, Queen Latifah, Taye Diggs and Eva Longoria.

"I look at them like, oh my gosh, they're the stars," she says. "They have that same response when they see me. It's kind of cool."

SOURCE: The Detroit Free Press

Matt Richenthal is the Editor in Chief of TV Fanatic. Follow him on Twitter and on Google+.

Tags: American Idol