Zachary Quinto deserves a lot of credit for making Sylar the frightening, unique character that he is.
But a lot went in to the planning of this super villain. Below, Heroes Creator Tim Kring and others discuss the steps that were taken to mold Sylar into the man he's become...
Sylar's first "appearance" was simply a bloody skullcap found by Hiro during "Dont Look Back," as part of his first sojourn to the future. Before long, though, the Heroes baddie would be heralded by bloody scribblings and stuntmen in shadowy baseball caps to crank up the suspense.
Said Kring:
"I knew [Sylar] would be a better character if we built him up off screen for several episodes so that you were waiting and waiting and waiting. It was a little bit of a logistical nightmare to try and hide his identity, but we knew the character didn't appear until Episode 8, so that meant we really couldn't start casting until close to that."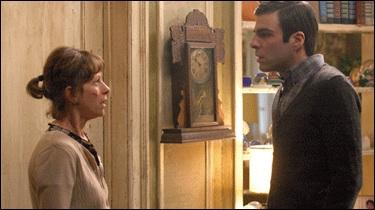 The mystery of Sylar is then heightened when Mohinder discovers the these scrawlings in a closet of Sylar's apartment. Later in "One Giant Leap," Parkman confronts the baddie and shoots him several times, but the shadowy figure rises unharmed and escapes.

"Sylar was still evolving, and we liked the idea of keeping him hidden in the shadows. The big plus was that Sylar became even more larger than life by keeping him hidden," said writer Jeph Loeb. "Viewers started to speculate that it was a cast member. There were lots of votes for Nathan (Adrian Pasdar), some for "Niki's other personality" and even Claire because she could regenerate after the bullet wounds—ha!"

Quinto makes his first official appearance as Sylar when he sits in the corner of the Burnt Toast Diner during "Seven Minutes Midnight." He closely observes Hiro and his next intended victim, Charlie.

"For the first couple of days when I showed up to work, people were like, "Wait, you're the real guy? You're really playing this character?" Quino said "I was like, 'Yeah, I really am.' I think there was a fair amount of expectation of like, "Who is this going to be?" They set that up for the audience, and I think that was also built in for the cast and the crew as well. It was like, 'Who is this shadowy figure who is going to emerge and try to kill us all?'"

Finally, the catalyst for the Heroes season finale comes alive when Sylar accidentally kills his mother before realizing his own destructive potential in "The Hard Part." The man has become more than a threat to the Heroes: he's now a threat to the world.

"This story sparked a lot of internal debate," said writer/producer Aron Eli Coleite." A lot of people wondered if Sylar, the ultimate killer, could have a shred of humanity left, a hint of regret. For me, this story was about Sylar ridding himself of that last spark of humanity.

He sought redemption. He thought maybe he could be normal. But the monster was stronger than the man, and he killed the last thing grounding him to his old life: his mother. With her death, Gabriel Gray was dead, and Sylar was the only one left."

Matt Richenthal is the Editor in Chief of TV Fanatic. Follow him on Twitter and on Google+.

Tags: Heroes