Remember Sarah Burgess? The young singer defied her parents in season six, attended an American Idol audition and almost made the final 12.
FOX highlighted her during a tearful call to her father.
Now, the story has a happy ending: Burgess recently landed a record deal and has released an R&B track called "Didn't Matter That." She spoke to TV Guide about it...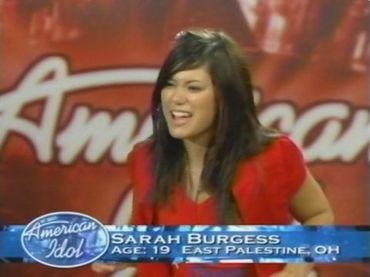 TVGuide.com

: What's the story with "

Didn't Matter That

"? You're not just saying goodbye to a guy there, you're saying goodbye and good riddance!

Sarah Burgess

: I wouldn't give an ex the pleasure of having it dedicated to him. [Laughs] It's just a song that I think every girl can relate to at least once in her life.

TVGuide.com: What about you? How's your love life these days?
Burgess: I actually just got married!

TVGuide.com: No way! Is your husband ready to be married to a pop star?
Burgess: He's enjoying every minute of it. He is the most supportive person in my life. He videotapes my performances, saves newspaper articles…. He even taped every single episode of American Idol on DVD! It's so cute.

TVGuide.com: How would you describe your album, One?
Burgess: It's a unique soulful pop sound. I have so many different tastes in music. It ranges from pop to classical. So on my album, I wanted to make sure we covered everything! We got pop, soul, rock, jazz. It's such a great mixture of everything I love.

TVGuide.com: How are you going to set yourself apart from all the other young Christinas and Britneys?
Burgess: I think my individuality lies in my vocal inflections — I really have to believe what I'm singing in order to make the song my own. And I want to keep my clothes on! [Laughs]

TVGuide.com: Were you surprised that you didn't make the top 20 on Idol after they spent so much time on your story?
Burgess: I didn't know! I hadn't seen my audition show yet since I was in Hollywood, so I had no idea there was so much attention paid to my audition.

TVGuide.com: What was Simon Cowell like — evil incarnate or simply misunderstood?
Burgess: [Laughs] He was nothing but nice to me. Really! I appreciate his honesty. I even made him laugh when I told him I secretly wanted to marry Clay Aiken!

TVGuide.com: Your husband will be thrilled to hear that. So, in retrospect, are you disappointed that you didn't go further on Idol or relieved that you won't have to be "Idol this" and "Idol that" for the rest of your life?
Burgess: I don't know how to answer that. I mean, I'm disappointed because I would have liked to have stayed on the show to see how far America would've voted to keep me on. But I'm also relieved because so much is happening for me now. I mean, I just opened for Daughtry — I can't be too sad!

Matt Richenthal is the Editor in Chief of TV Fanatic. Follow him on Twitter and on Google+.

Tags: American Idol