After quite a season finale, Grey's Anatomy returns tonight.
To recap where we left off in May, Cristina (Sandra Oh) was left at the altar by Dr. Burke. Meredith (Ellen Pompeo) and Derek (Patrick Dempsey) sort of broke up, and George (T.R. Knight) found out he failed his intern exams.
"He's repeating his intern year," T.R. Knight tells Entertainment Tonight on set of the hit medical series, referring to his troubled character.
"His options were to walk away, or to repeat it, so, he's a repeater. He's made a lot of mistakes and that was one of them. You know the adultery and all that, so he needs to work out some stuff."
And part of working out that stuff means he has to figure out whether he wants to stay married to Callie (Sara Ramirez), or pursue friend Izzie (Katherine Heigl).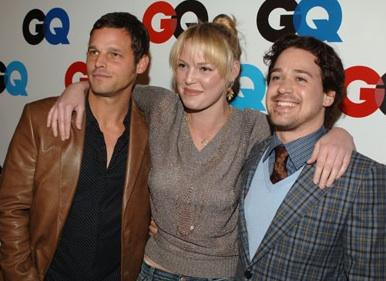 While neither T.R. Knight nor Katherine Heigl would reveal the future of "Gizzie," they did talk about their romantic kissing scene - not!

"When we were kissing, I was chewing that gum," T.R. recalled, laughing.

"They have this apple gum on the camera cart," Katherine added.

"It's apple flavored, but, literally, to me, it smells like vomit... like that taste in your mouth before you are going to throw up. So, the fact that I had to kiss him, and he had that gum in his mouth, was really throwing me off, because all I was thinking of was throwing up."

Well, that's hot! The season premiere of Grey's Anatomy, "A Change is Gonna Come," airing tonight at 9 p.m. on ABC, is different this year.

The title is appropriate. With the exception of George, the rest of the gang - Meredith, Cristina, Izzie and Alex (Justin Chambers) - are now residents.

"We have just a tiny modicum of power now, but not like Bailey (Chandra Wilson) and not like Callie who is the chief resident. We have our own interns - a group of young, eager students... basically who we were two years ago," Katherine Heigl said.

Steve Marsi is the Managing Editor of TV Fanatic. Follow him on Google+ or email him here.

Tags: Grey's Anatomy