Patrick Dempsey Lines Up Busy Racing Schedule in September
by Steve Marsi at .
Grey's Anatomy star Patrick Dempsey is set to compete in three different racing events at Miller Sports Park, reports the The Grand Rapids Press.
Patrick will reportedly be racing for Marc Miller, who has served as his coach in some of his previous races, on September 14 and 15.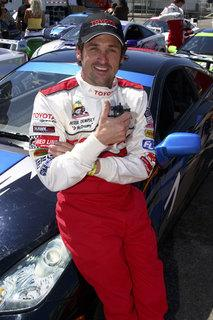 The 41-year-old actor, who plays Dr. Derek Shepherd in

Grey's Anatomy

, has been passionate about racing since his father began taking him to the

Indianapolis 500

as a child.

He started his professional racing career in 2005, and is now the co-owner of Vision Racing, which competes in the IndyCar series. He began racing in the KONI Challenge series in 2006, and has been seen occasionally in the SIRIUS Satellite Radio Mazda MX-5 Cup series.

"I do it as a hobby and escape from my daily job," Dempsey said. "I wish I could be a professional, but I think I missed the boat on that. But it's nice to come here and relax and hang out with my friends and fellow drivers. It's a good challenge."

On Friday, September 14, the Grey's Anatomy leading man will be driving his usual No. 54 Supercuts Ford Mustang GT. For the two-and-half-hour-long race, he will be co-driving with Rick Skelton of Atlanta.

The next day, at 10 a.m.,

Patrick Dempsey

will compete in the No. 29 Mazda MX-5 Miata entered by TEAM MER for a solo drive. The 45-minute race serves as the season finale for the SCCA Pro Racing SIRIUS Satellite Radio Mazda MX-Cup series.

Following the MX-Cup race, Dempsey will hop onto a brand-new a car with a brand new sponsor, the #40 SoBe Mazda RX-8 GT, for the 7.5-hour Sunchaser 1000, the Rolex Sports Car Series season finale.

His participation in this year's Sunchaser 1000 marks his second appearance at Miller Motorsports Park, having competed in last year's inaugural event.

"I'm really looking forward to returning to Miller Motorsports Park," Dempsey said. "It's a fantastic facility, and the fans there were great to me last year. This year I'm really going to have my hands full, driving three different cars in three different events, but I can't wait. I'm particularly happy to be debuting the SoBe Mazda RX-8 GT. We are using the Sunchaser 1000 to test the waters for Hyper Sport in the Rolex Series. Our goal is to start and finish the race as professionals, and get as much experience as we can."

Patrick Dempsey is also optimistic about his other two races.

"While making my debut in the Rolex Series is a very big thing, I'm also very excited about our KONI Challenge Series race in the Supercuts Ford Mustang GT as well as getting another shot in the SIRIUS Satellite Radio Mazda MX-5 Cup series," he said.

"I'll be having fun all weekend, but it takes a lot of work and coordination behind the scenes to make this all possible, and I'd like to thank all my teammates and sponsors for allowing me to be able to pursue my passion, which is driving great cars on great racetracks."

Steve Marsi is the Managing Editor of TV Fanatic. Follow him on Google+ or email him here.

Tags: Grey's Anatomy
From Around the Web