The Dallas Morning News was rather harsh in its review of Carnival Ride, the latest album from Carrie Underwood. It read:
While Carnival Ride fiddles with a handful of traditional country instruments such as banjo, mandolin and steel guitar, her roots remain in radio-ready pop. Tellingly, the CD's best cut, "Last Name," is a rocked-up little corker about too much booze and a surprise Vegas wedding.
It's a catchy guilty pleasure.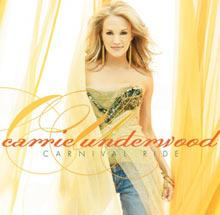 Ultimately, Carrie Underwood's artistic abilities amount to a bunch of air. Give her a batch of palatable pop nuggets, such as the breezy final track "Wheel of the World," and then let her blow. She'll blend perfectly with the proceedings. She'll even harmonize for you. Her voice will be purely pleasant white noise.

Just like any other background vocalist.

Wow. Not very kind. What do you think of the CD?

Matt Richenthal is the Editor in Chief of TV Fanatic. Follow him on Twitter and on Google+.

Tags: American Idol