It's common knowledge that branded entertainment is becoming popular on TV as marketers — worried about how easy it is to avoid commercials -­ arrange for their products to be woven into the plots of shows, reports the New York Times.
Allstate Insurance tried a different angle last Friday, as you might have noticed if you watched Friday Night Lights. You may call it cause-related entertainment, integrating an issue into an episode of a scripted television series.
A plot line in "Backfire," last week's episode of Friday Night Lights, was focused on encouraging teens to drive safely. Allstate has been promoting the cause for months, in traditional advertising efforts like TV commercials and PSAs.
Last Friday, Friday Night Lights viewers did not see a poster about safe driving bearing an Allstate logo on a wall, or an actor playing a local Allstate agent reassuring teenagers that they're "in good hands."
Instead, the issue was brought up through "Backfire" scenes in which a principal cast member, Julie Taylor (Aimee Teegarden) is being taught to drive by her dad, coach Eric Taylor (Kyle Chandler) and her mother Tami (Connie Britton).
After the episode, there was a special Allstate commercial, created by Leo Burnett in Chicago, part of the Publicis Groupe, devoted to teenagers and safe driving. The spot introduced a section of the Allstate Web site about the issue, encouraging both teenagers and parents to sign a safe-driving "contract."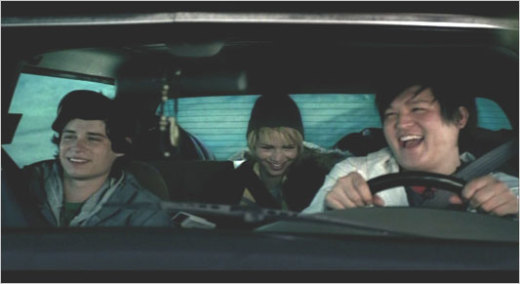 "What we are getting is real," said Lisa Cochrane, vice president for marketing at Allstate in Northbrook, Ill.

Although Allstate has had its agents appear on "It Takes a Thief" on the Discovery Channel, discussing how to thwart identity theft, "this is new" with a scripted show on a big broadcast network, Cochrane said.

Chuck Blomberg, V.P. for central sales at NBC Universal, who lists Allstate among his clients, said the issue "fits really well with the sensibility of Friday Night Lights," a drama in its second season about a Texas high school football team.

The writers of the acclaimed NBC series were asked "not to include Allstate as a brand," Mr. Blomberg said, "but to look at the topic of safe teen driving as something to focus on" and then "weave it into the episode."

Allstate did not pay for the inclusion of its cause in the episode, but is paying for the commercial time for the spot appearing at the end. The company is also a regular advertiser on other shows on NBC.

"The environment of Friday Night Lights is on target to make this issue known," said Mary Kang, activation director on the Allstate account at the Allstate media agency, Starcom USA in Chicago, which like Burnett is part of Publicis.

Leaving out any overt mentions of Allstate and its product was intentional, Kang said, adding: "We kept it very pure. We want to keep the integrity of the show so viewers will not think it is force-fed."

It is a coincidence, Kang said, that Starcom USA made a brand entertainment deal with a client, Applebee's, to be included in episodes of Friday Night Lights.

Various episodes feature scenes in which characters meet and eat at an Applebee's restaurant in Dillon. Tyra Collette (Adrianne Palicki) now works there.

"The reason we looked at Friday Night Lights is not because another client is there but because the audience we were looking to hit watches it," Kang said.

The Allstate commercial at the end of the episode features a song, "From Where You Are," written and performed by Jason Wade, a member of Lifehouse. Wade wrote the song after the death of a 16-year-old friend in an auto accident.

The commercial dramatizes the issue by showing a highway crowded with cars ­- filled with teenage passengers -­ that suddenly disappear.

"Every year, nearly 6,000 teenagers go for a drive and never come back," says actor Dennis Haysbert, the Allstate spokesman.

He asks the parents watching the spot to "start the conversation" with their teenage children about driving safely.

In the past, several nonprofit organizations have been able to persuade the writers of scripted TV series to include causes in episodes of shows.

Matt Richenthal is the Editor in Chief of TV Fanatic. Follow him on Twitter and on Google+.

Tags: Friday Night Lights