You know it's been an underwhelming fall TV season when Sabrina Bryan being voted off Dancing with the Stars is big news. New hit shows? Not many!
Six weeks into the new season, not one new series has broken out of the pack to generate buzz and become a success the way Heroes did last year.
Still, Private Practice has emerged as one of the top contenders for class of the freshman class in 2007-08. Here's a look at how Private Practice and other new shows stack up to the competition, from the Detroit Free Press ...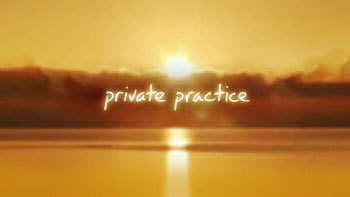 The fall's top-rated rookies: Private Practice (No. 19, 13.2 million), Pushing Daisies (No. 27, 11.1 million), Bionic Woman (No. 28, 11 million) and Women's Murder Club (No. 33, 10.1 million).

The critics' top five: In no particular order; Pushing Daisies, Back to You, Dirty Sexy Money, Reaper and Aliens in America.

Top time slot slugfest: It's Wednesday night fights at 9, when Criminal Minds remains top dog, but rookies Private Practice, Bionic Woman and Gossip Girl have all carved successful niches despite big competition.

Most significant viewer trend: The growing impact of the TiVo, or Digital Video Recorder (DVR). The penetration of DVRs has more than doubled from last year, going from 9 to 20 percent.

Gloomy remake mistake: Bionic Woman, which despite buzz and fairly solid viewership is one intensely grim sci-fi fairy tale. And Bionic Woman has a chronic problem - the sullen mope performance of Michelle Ryan.

Continue reading this article here ...

Steve Marsi is the Managing Editor of TV Fanatic. Follow him on Google+ or email him here.

Tags: Private Practice