You could tell the tribes apart by variations in dress: the tartan kilts and pleated skirts of Nightingale-Bamford, Sacred Heart and Spence; running shoes on the girls who had made their way over from Chapin and Hewitt; leggings and anoraks for students at Dalton, with its relaxed dress code.
These are the real life students of Manhattan's Upper East Side, and they are clamoring for a glimpse of the cast and crew of Gossip Girl, the CW network series based on the young adult novels.
The have been camped out on 93rd Street between Madison and Park Avenues, the New York Times reports, as the producers are shooting a Gossip Girl episode at the grand Georgian complex that in its workaday life houses the Synod of Bishops of the Russian Orthodox Church Outside of Russia.
With a simple application of bronze plaques at the entrance, it became the site of St. Jude's School for Boys. That is the school where in an early episode ("Poison Ivy"), Dan (Penn Badgley) and Nate (Chace Crawford) fought over who would get to escort a Dartmouth rep around campus.
In any case, the normally tranquil block is now a small mob scene of 11- to 15-year-olds, particularly after 3 p.m. when classes let out.
They came in groups of four and five, in pairs and alone, and massed on Park Avenue and in front of the church entrance on 93rd Street.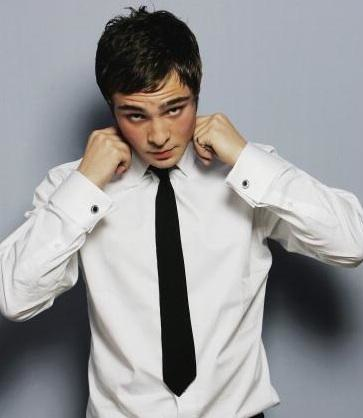 At first, it could be difficult to figure out who was a part of Gossip Girl and who was merely watching. Where did real life end and fiction begin?

"I totally want to see Chuck," said 14-year-old Catherine, who appeared to be the ringleader of a group of eighth graders and who was wary of sharing her full name. She meant Chuck Bass, played by Ed Westwick (pictured).

"Blake Lively is my idol," she said, referring to the actress who plays Serena van der Woodsen. "But if Chuck walked out here, I think I'd jump him."

Continue reading in the Times' Upper East Side Journal ...

Steve Marsi is the Managing Editor of TV Fanatic. Follow him on Google+ or email him here.

Tags: Gossip Girl