Penn Badgley tells Canada's CTV that unlike some of his peers, he has a more laid back approach to his craft.
The 21-year-old actor was in Toronto earlier this year promoting Gossip Girl, which debuted this fall on CTV.
"I don't think it matters what you studied, I think working is the best training," said Badgley, hunched forward in his chair.
Gossip Girl is based on the best selling book series of the same name. It follows the lives of wealthy teens in New York City's Upper East Side and the mysterious blogger that chronicles their every move.
Badgley plays Dan Humphrey, a student who attends school in the Upper East Side yet is completely foreign to the lifestyle enjoyed by his peers inside one of the world's most affluent zip codes.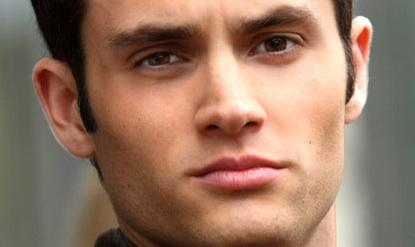 Penn Badgley has won the hearts of many fans as Dan Humphrey.

Dan, is in love with Serena van der Woodsen (Blake Lively), the most loved - and reviled - woman at the center of Gossip Girl, and is determined to make things work despite their class differences.

Penn Badgley has previously lived in the Big Apple, and is familiar with life in New York - especially how it impacts actors.

Working in the city, Badgley remembers meeting many New York "theatre kids" who he realized approached acting much differently than he did.

"I think they might intellectualize it too much... but other times I think I don't intellectualize it enough," laughs Badgley. "I think there is naturalism to the person who is good and untrained."

Despite taking pride in the work he's done, Penn Badgley isn't ruling out some kind of schooling in the future.

"I imagine I'll study at some point with somebody, as a craft, I'm still grappling with it. It's constantly evolving."

Growing up "in the middle of nowhere" in Washington State, Badgley recalls that his mother played a big part in helping him with his first real role.

Badgley was home-schooled at the time; his mother drove the young actor 50 miles for him to be involved with a local production of "Music Man."

"I don't know if I loved acting at that point yet, but it was a happy accident and I do now. It's what I do best," says Badgley.

The actor's first critical success came when Badgley was nominated for the "Young Artist Award" and "Best Performance in a Daytime TV Series" for his work on The Young and the Restless.

Soon after, the actor landed the role of Owen Gregory in Bedford Diaries which was followed by a leading role in the 2006 big screen release John Tucker Must Die.

The formerly shaggy actor, who buzzed off his locks for Gossip Girl, is excited about his new gig as Dan Humphrey.

"It has a lot of sex appeal and a hot cast to draw viewers in, but it has the drama and substance to keep them there," Badgley said. "It also has a lot of heart and soul."

Steve Marsi is the Managing Editor of TV Fanatic. Follow him on Google+ or email him here.

Tags: Gossip Girl