As viewers get set to vote off more American Idol contestants this week (two of our predictions: Brooke White and Jason Yeager), here are interviews MTV conducted with the quartet that got the boost after last week's auditions:
Q: How did you choose "Breaking Up Is Hard to Do" as the song that would introduce you to America?
Garrett Haley: I didn't really get to choose it. We're allowed to choose three songs from a list. Every contestant is for sure to get one of the songs, and I didn't get to get any of my songs because they gave the songs out to all the contestants before that.
So I just ended up with having to choose from the list again. And I didn't really get to choose, they just threw the song at me and said, "Here, sing this one." [He laughs.] And I was like, "OK." It was a total surprise to me, but I took what I got, and I did what I could do with it.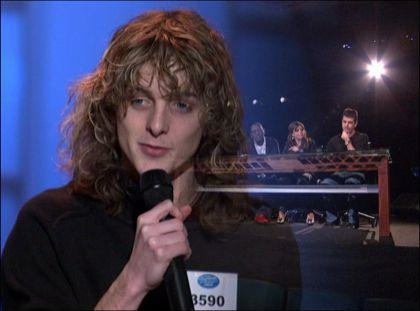 Q: Were you surprised you were voted off?
Amy Davis: I was not surprised. I was actually waiting for Ryan to call my name. ... It's really just a technical issue on my part, why it was a bad performance. There's nothing I can do about that. I did the best I could, and it was just the fact of me not being able to hear myself. It's not an "American Idol" issue or a sound issue on their part; it's the way my brain works. I've been using in-ear monitors for the last two years consistently.

My brain is trained to use the in-ear monitors, which blare my vocal in my ear so I can stay on pitch. Obviously, when I came to "American Idol," I knew I was not going to be allowed to use my in-ears, so I tried to retrain my ears to use the floor monitors ... and I just could not retrain my ears quick enough.

Q

: You made a comment on Thursday that the way you look didn't necessarily match your singing voice. Can you explain that?

Joanne Borgella

: Usually with a plus-size woman, you tend to think that they're going to sing neo-soul ... and for me, I love that music, but that's not the kind of performer that I am. I don't sing that kind of music. I listen to pop, R&B, Celine Dion, Whitney Houston. I love doing power ballads, but I also wanna do the song you would dance to in a club. You don't usually put that with a plus-size woman. ... I don't think because of the way I look you should expect me to sound a certain way.

Q: Simon encouraged you to quit the music industry after you were voted off the show. How did you feel about that?
Colton Berry: Simon's job is to be Simon Cowell. There's no one else in the world like Simon Cowell, and that's who he's supposed to be. I expected him to say something like that. I also kept in mind, and I think America kept in mind, when he said that comment, he did pick the top 24.

Out of hundreds of thousands of people, he picked us to be the top 24 singers in America, so obviously we're all gonna continue on with music careers. That's who we are. And obviously he had a hand in putting us there. I think he was being kind of a little hypocritical, but he's Simon. But everyone loves him and I love him for who he is.

Matt Richenthal is the Editor in Chief of TV Fanatic. Follow him on Twitter and on Google+.

Tags: American Idol