Romance â€" both onscreen and off â€" was the topic of the day at the Chrysalis Ball, held Saturday night at a private estate in Brentwood, Calif.
The hosts: Grey's Anatomy star Eric Dane and wife Rebecca Gayheart.
Dane's character, Mark Sloan, had a rough season as far as his love life goes. But as far as his own marriage to Gayheart goes, he couldn't be happier:
"It is great. I don't know how I got so lucky," he said.
Eric Dane added that he and Gayheart are "working on" kids.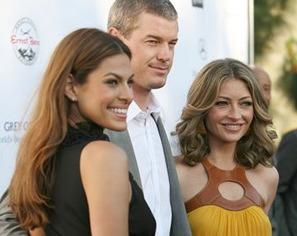 Several Private Practice stars â€" Kate Walsh and Tim Daly included â€" as well as other stars (like Eva Mendes, pictured) were there to support Dane and Gayheart.

Among the Grey's Anatomy contingent was Katherine Heigl, who momentarily misplaced her spouse, Josh Kelley, and began joking that married life is "Great ... except that I've lost my husband, so it could be over now, I guess!"

Heigl is managing to juggle working on a hit show and a busy movie schedule (she is now filming The Ugly Truth): "It's a real blessing because I love both and so I can do them both and not be completely ready to blow my brains out."

T.R. Knight and boyfriend Mark Cornelsen were all smiles, saying that their relationship is "very good, so far," but even with same-sex marriage now legal in California, they're not about to tie the knot anytime soon.

As far as romance on Grey's Anatomy, Knight was as surprised as anyone by George's kiss with Lexie at the end of the May season finale.

"What was up with that?" he asked.

T.R. Knight has no idea if a bona fide romance will follow, but adds that "I love working with

Chyler Leigh

. She's really funny and it's really fun to work with her. I like the dorky actor 'craft' part of it, where you discuss the scene and so does she. She's a cool person."

Knight also seemed confused about the the controversial â€" and now ended â€" affair between George and Izzie, saying, "It kind of died quickly, didn't it? They had them fall in love really quickly and then tore them apart really quickly. It just seemed to be such a weird, fast event."

James Pickens was delighted to be reunited in the Grey's Anatomy finale with his TV wife, Adele, played by Loretta Devine.

"Yeah, we got him some action for a change," he said.

"He got a chance to get some, so that's all good!"

Pickens joked that his character's marital status depends on the availability of Devine, who also stars in Eli Stone.

As for what's going on next season, Pickens said, "I think we're doing 26 episodes. The network's got to get back what they lost during the strike."

Pickens is off to D.C. for a jazz festival and Heigl planned to hit Cabo before the Grey's Anatomy cast returns for their first table read June 19.

Steve Marsi is the Managing Editor of TV Fanatic. Follow him on Google+ or email him here.

Tags: Grey's Anatomy