Brigid Brannagh didn't want to say the wrong thing.
Not because the Army Wives actress had something to hide or she was worried she'd offend her interviewer. She carefully chose her words because the show has made her a de facto spokesperson for the men and women of the U.S. military and their families.
While reflecting on her recent trip to Walter Reed Army Medical Center in Washington, she tried desperately to remember the names of each soldier whose stories moved her (there were many, and she remembered almost all).
"I can't even describe Walter Reed," Brannagh said. "They're missing limbs, and they have permanent disfigurement, and they're in incredible pain and have any number of things that the rest of us can't imagine, and yet they were so positive - so grateful to be there and be well cared for and be home. And they feel luckier than their counterparts."
"I'm not kidding - I felt like a jerk. What could I possibly think or do to make this better in any way? I definitely think Walter Reed is a place to donate."
Brannagh and some of her Army Wives co-stars visited Walter Reed this summer for a special screening of their Lifetime drama series.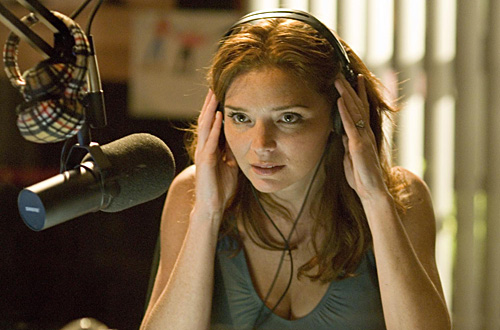 Brannagh plays Pamela Moran, wife of a Delta Force soldier. She's a former cop who now hosts her own radio show targeting the women on post.

Army Wives, which has been a huge hit for Lifeime on Sunday nights, is filmed in Charleston, S.C., where the fictional Fort Marshall is located.

While other stars in front of the camera include Hollywood imports like Kim Delaney (NYPD Blue) and Catherine Bell (JAG), many of the faces behind the camera are imported from a city about four hours north of Charleston.

"Maybe half of our crew is from Wilmington," Brannagh said.

Army Wives actually marks the second time Brannagh has worked with Wilmington-based filmed crews, but the last time, she came to them.

Brannagh filmed a guest role for the made-in-Wilmington supernatural drama American Gothic in 1995.

That series, which ran for only one season on CBS, also was set in South Carolina, this time in a small town called Trinity.

The quirky town was ruled, for lack of a better word, by the demonic Sheriff Buck, played by Gary Cole (Desperate Housewives, Office Space).

Brannagh, who was in her early 20s at the time, played innocent 15-year-old Poppy Bowen, the daughter of a man who refused to let Sheriff Buck hire her to be his office assistant.

As punishment, Buck set events in motion that killed Poppy's mom and led to a sexually suggestive Popsicle-eating scene between Poppy and a recently released prisoner.

"My brother was so offended because I had this whole scene with a Popscicle," Brigid Brannagh said. "It was very much a girl growing but not knowing."

She enjoyed her whole American Gothic experience, she said. "I loved that show. Gary Cole's a great actor. He always does interesting things. I think it was very much ahead of its time."

And though it has been 13 years since she visited Wilmington, she fondly recalls wading in the Cape Fear river (for one of her final scenes).

"I remember Peggy Farrell," Brannagh said, referring to the longtime Wilmington costume queen who retired nearly a decade later. "She was amazing. I remember the whole Wilmywood community."

She's finding a similar sense of community in Charleston.

"Charleston's great," she said. "Now we all feel a little local. We know some of the chefs or the waitress or the bouncers or the bartenders. We're just the kids in the neighborhood a little bit now."

And though being separated from her husband and dogs in Los Angeles "tears my heartstrings a little," she said the disconnection actors feel while filming on location can be good. "I think we are all better for it. It connects us with each other, which we would be on an army post."

Steve Marsi is the Managing Editor of TV Fanatic. Follow him on Google+ or email him here.

Tags: Army Wives