Known for his work on the movie screen and on network television, actor Patrick Dempsey is using his time off the set to pursue another passion.
The star of Grey's Anatomy is in his first full season of racing in Grand-Am's Rolex Sports Car Series GT class, according to the Poughkeepsie Journal.
Patrick Dempsey is a driver and owner of the No. 40 Hyper Sport Mazda RX-8.
He will race with Hyper Sport this weekend in the Supercar Life 250 at New Jersey Motorsports Park. He is also the co-owner of Vision Racing in the IndyCar Series.
"I really love racing," Patrick Dempsey said in a recent phone interview from the Barber Motorsports Park in Alabama. "I really feel most comfortable at the track. I'm passionate about racing and committed to building the team."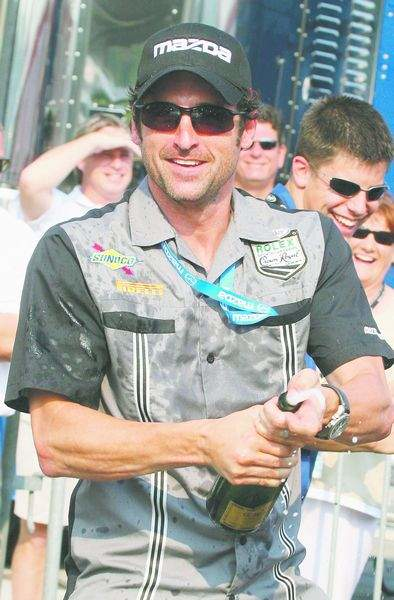 But Dempsey is best known for his role as Dr. Derek Shepherd on Grey's Anatomy, which begins its fifth season September 25 with a two-hour premiere.

Dempsey, who has seen his career take off since the launching of Grey's Anatomy, was a 2007 Golden Globe nominee for his work on the show.

Dempsey's movie career dates to 1985 and he recently has starred in the hit movies Enchanted and Made of Honor. He's a spokesman for Mazda and he will even have a signature fragrance coming out this year.

"I really appreciate what

Grey's Anatomy

has given me. It's opened up so many opportunities for me," Dempsey said.

Motorsports fan Dempsey received a gift from his wife, Jillian Fink, to attend the Skip Barber Racing School at Laguna Seca, Calif.

Dempsey began his road racing career in Grand-Am during the 2006 season, competing in five KONI Challenge events. In 2007, he competed in the KONI Challenge Series and in one Rolex Series GT race.

Dempsey started the 2008 season by competing in the Rolex 24 at Daytona, one of the two major 24-hour road races in the world. He hopes to do the other - the 24 Hours of Le Mans in France - in the future.

By pursuing a career as a driver in the fast-paced world of motor sports, Patrick Dempsey follows a path set by celebrities such as Paul Newman, Craig T. Nelson, the late Walter Payton and former 90210 star Jason Priestley.

Jason Priestley was pursuing a driving career in open-wheel racing when he was seriously injured by crashing head-on into the wall at 180 miles per hour in a practice session at Kentucky Speedway in 2002.

"There is risk in racing. I let it go once I get in the car and drive," Dempsey said. "You're aware of the risk, but you don't try to think about it.''

These days, Patrick Dempsey is keeping a busy schedule as he continues to star on Grey's Anatomy and build his race teams.

"I would like to win a championship as an owner and driver," Dempsey said.

Steve Marsi is the Managing Editor of TV Fanatic. Follow him on Google+ or email him here.

Tags: Grey's Anatomy