Michael Ausiello of EW has some quality Office spoilers in his weekly column. Here's what he's got to say about Ryan's return, and more importantly, Jim and Pam's wedding:
Q: Any word on what will be up with Ryan when he returns to The Office?
A: Let's just say he'll be a changed man and leave it at that.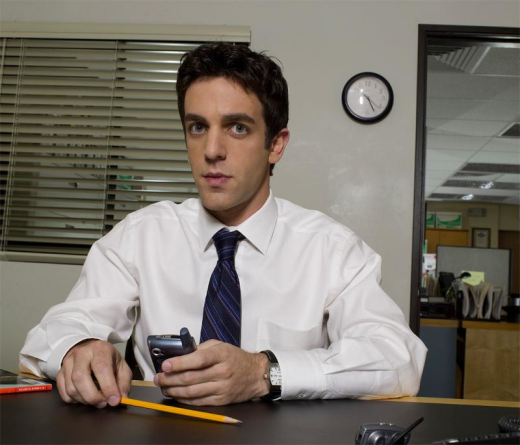 Q: Where are you hiding The Office scoop, and can we have some?

A: In my office, of course, and yes, of course. We caught up with occasional Office director Ken Kwapis at Monday's premiere of He's Just Not That Into You and he told us that he helmed "a two-part special episode that will air this Thursday and next Thursday the 12th, titled "Lecture Circuit." And come April," he added, "I will be directing the 100th episode of the series." In that case, maybe he could tell us a little bit about what happens in it? "A lot of romantic foibles including with Jim and Pam," he said. "But in the next few episodes, everybody will have an emotional pratfall. I've not seen a script, but I'm sure they will outdo themselves."

Q: The Office

seems like the equivalent of Fort Knox these days. Are there any JAM spoilers?

A: Sorta. Although Jenna Fischer swears (up and down) that she doesn't know for sure if Jim and Pam will tie the knot in the season finale, she concedes, "We have 11 more episodes to shoot before the end of the season, so it is very possible." That said, she hopes they don't marry this season. "I hope it's next season," she confirms, because "I would like to see them address this engagement more. I feel like it happened so quickly at the end of a random episode, and then we don't talk about it that much. I don't want it to become another Pam/Roy scenario, where she is engaged for seven years. We need to make some forward motion." Besides, she concludes, "I think she and Jim really are soul mates and meant to be together."

Q: What can you tell me about Jim and Pam's wedding?

A: For real? Nothing. So far as anyone knows - or is saying - it hasn't yet been conceived. For unreal, however, I can give you this: Jenna Fischer, like any TV bride-to-be, has a few ideas about what should go down. "I really want Jim and Pam to get married at Schrute farms," she says. "And I also want there to be something about the wedding that you don't see on camera. Maybe you just hear it, or there is a photo at the end, or someone recounts it. But I want Jim and Pam to have a private moment at some point. Because they are a part of the documentary all the time, I think it would be nice for them to have some little thing that is just theirs. That would make all the romantics in our fan base happy."

Steve Marsi is the Managing Editor of TV Fanatic. Follow him on Google+ or email him here.

Tags: The Office, Spoilers