Zap2it Spoiler columnist Korbi Ghosh has a couple of items in her most recent article about Gossip Girl, specifically Chuck and Blair. While it's little we don't already know, we figured we'd pass it along for your thoughts and comments ...
Q: You said that Nate and Blair would be a blip in the Gossip Girl time line, but now I hear that Nate is gonna ask Blair to move in with him. No hope for Chuck and Blair this season? Please, answer me, I really would like to know. I feel like giving up Gossip Girl.

A: Don't give up. There is always hope for Chuck and Blair. Always. The writers understand that C.B. and Blair belong together, but they can't just couple them up and be done with it. You'd get bored and the show would suffer. Instead, they have to throw roadblocks like Nate Archibald, Carter Baizen (played by Leighton Meester's real life boyfriend Sebastian Stan, below) and that Gentleman's Club chick in the way. Yes, not only will Blair and Nate be a thing, but Blair will give it up to Carter even before that, and Chuck will fall for the shady lady he was stalking last we saw him. The good news is, there are a few quality Chuck-Blair scenes on tap for the March 23 episode. Chuck's affection for Ms. Waldorf will rise to the surface once again. It's just too little too late for the time being.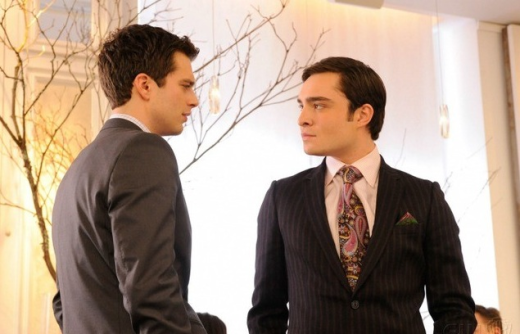 Q: If Blair and Nate are going to be together on Gossip Girl, what happens to him and Vanessa? I like them together.

A: Me too. Vanessa and Nate will be together when we jump back into the Gossip Girl world next Monday. Actually, they'll be together the following week too. But issues between them will begin to flare up, and ultimately, it seems their lack of common interests and disparate backgrounds will be the death of them.

Q: What's up with Dan and the teacher on Gossip Girl? Will they get caught?

A: Affirmative. Rufus finds out what's going on and he's not happy. However, Rachel Carr has a dark side that we haven't yet seen. Seems she has more in common with Blair Waldorf than we were led to believe.

Steve Marsi is the Managing Editor of TV Fanatic. Follow him on Google+ or email him here.

Tags: Gossip Girl, Spoilers