Edie Falco makes her return to television tonight on the series premiere of Nurse Jackie.
During a recent interview with Alan Sepinwall of The Newark Star-Ledger, the actress spoke on her new character, as well as the transition from The Sopranos to another (hopeful) cable hit:
Do you feel like you have a comfort level with Jackie yet?
I'm getting there. There's still a great deal with her that I'm discovering. Every time I got a script I said, "Really? Wow. Okay, let's follow this one." Pieces of the storyline that were just fascinating. I loved the opportunity to discover what that would feel like on the inside. Same thing as "Sopranos" -- the more you go along, the more you're going to feel comfortable in that skin. But I'm certainly not there yet. If we're lucky, we'll get a chance to learn more, but who knows?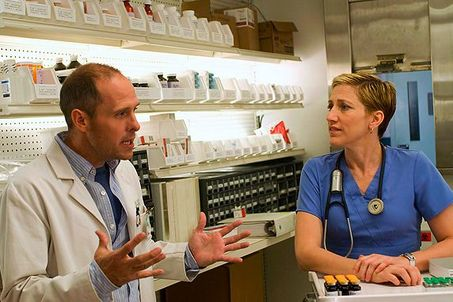 What's the ratio is of comedy to drama on the show?
I don't know. I signed on to it when it was a drama. The first version that I read was certainly dark -- too dark, which is one of the reasons I wasn't ready to go with it completely. Then Linda Wallem and Liz Brixius got ahold of it as writers, and it morphed into something Showtime was more interested in grabbing hold of. But it's hard to say, ratio-wise, because it all feels of a piece.

It feels like the people's relationships with each other are pretty funny, the situations are pretty funny. Though it's an emergency room, it is Manhattan, and people come into emergency rooms for funny reasons. I would tend to think it's in a similar ratio to "Sopranos." Although the humor is certainly different on a million levels.

Matt Richenthal is the Editor in Chief of TV Fanatic. Follow him on Twitter and on Google+.

Tags: Nurse Jackie