It took more than a decade, but we have a feeling this will be worth the wait:
The cast of Seinfeld will reunite, in an ongoing storyline, on the upcoming season of Curb Your Enthusiasm.
While this was initially reported a few weeks ago, star Larry David sat down with reporters at the Television Critics Association summer press tour yesterday and expounded on what viewers can look forward to.
Take it away, Seinfeld creator!
"The context is that for years I've been asked about a Seinfeld reunion," he told the media. "I would always say, 'No. There's not going to be a reunion show. We would never do that. It's a lame idea.' And then I thought it might be very funny to do that on Curb. I kept thinking about it. I started to think of different scenarios and how we can pull this off. I called Jerry and Jerry was game. I said, 'Well, I'll call the others.' And I did and we did it. So we're doing a Seinfeld reunion show on Curb."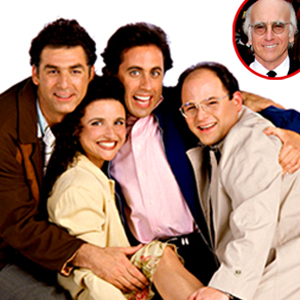 What, exactly, will this entail?

"We're going to see writing. We'll see aspects of the read-through, parts of rehearsals," David said. "You'll see the show being filmed and you'll see it on TV. You won't see the entire show. You'll see parts of the show. You'll get an an idea of what happened 11 years later. It will be incorporated into regular Curb episodes, so the castmembers will be playing themselves on Curb while all of this is going on."

David added that the unique storyline will comprise five episodes total. Jerry Seinfeld will appear on all five that are related to his former sitcom, while other cast members might only appear on four.

The Curb Your Enthusiasm season finale will then focus on this contrived, sure-to-be hilarious Seinfeld reunion. We can't wait.

Matt Richenthal is the Editor in Chief of TV Fanatic. Follow him on Twitter and on Google+.

Tags: Curb Your Enthusiasm, Spoilers