Peter Facinelli Dishes on Nurse Jackie Boob Grabs and Guest Stars
by Matt Richenthal at .
While Edie Falco is rightfully winning praise for her performance on Nurse Jackie, Peter Facinelli brings much-needed comic relief to a show that centers around a cheating, pill-popping main character.
As the arrogant, air-headed Dr. Fitch Cooper, Facinelli touches the private parts of his co-workers when nervous, readily accepts gifts originally meant for someone else and is often seen eating. Sloppily.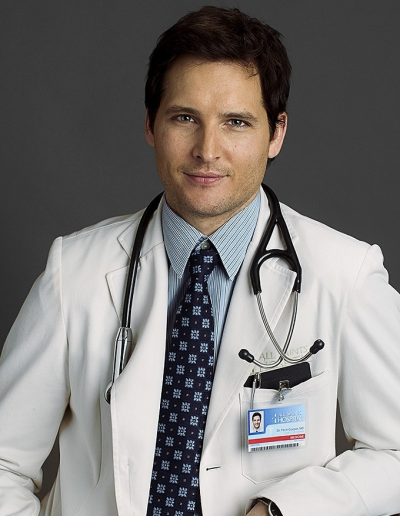 The actor spoke to E! News about his unique character, along with what - and who - is to come on Nurse Jackie. A few excerpts:

On his character's nervous habit of breast-grabbing: Yep, a couple of times I had to grab breasts. It's always awkward actually. It's a sexual organ but it's so nonsexual. And at the same time it's supposed to be something he's not aware he's doing. It's a subconscious thing, so I have to forget I'm doing it consciously. It's actually hard to play. On paper it's really funny, but when I have to do it, it's pretty difficult.

On his two moms, played by Blythe Danner and Swoosie Kurtz: [They aren't returning] this season, but I only hope that they bring them back because they were so much fun to play off of, and they are great actors and great people.  

On future guest stars: We have Victor Garber [Alias] for two episodes. [He's in the final two eps of the season, by the way.] I don't have scenes with him. But I talked to him and hung out. When you have Edie Falco, people want to work with her.

Matt Richenthal is the Editor in Chief of TV Fanatic. Follow him on Twitter and on Google+.

Tags: Nurse Jackie, Spoilers
From Around the Web