When 90210 returns for a second season on September 8, viewers will see a new, handsome face:
Former Days of Our Lives star Trevor Donovan has joined the cast in the role of Teddy Montgomery, a pro tennis playing son of a movie star.
We spoke with Donovan earlier today and asked him about joining a series that really found its groove over the last few episodes of the spring...
TV Fanatic: Tell us about Teddy:
Trevor Donovan: He's a new student at West Beverly. His father is a two-time Oscar winner. Teddy is confident, affluent, but not overly pretentious.
TV Fanatic: Did you feel pressure joining a cast that has been together for a season already?
Donovan: Sure, at first it was a bit intimidating. Everyone else has been together for awhile now and developed a certain chemistry. But everyone was so, so so welcoming. It's been a great. A very smooth transition.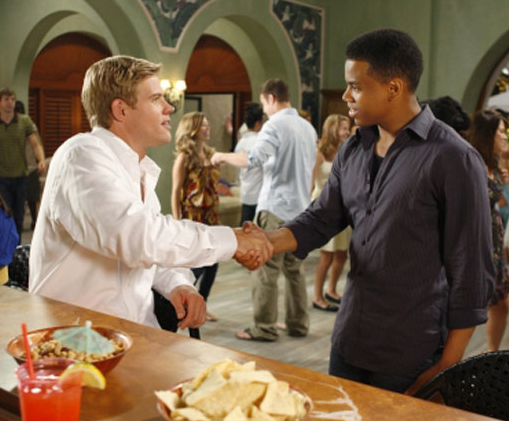 Dixon shakes hands with Teddy, a new student at West Beverly that will create tension throughout season two of 90210.

TV Fanatic: What did you think of the first season?
Donovan: I went back and watched the last few episodes to refresh my memory - and was really impressed with it. It was shot well and the scripts were a lot tighter. There's a distinct character direction now and everyone on set feels great about where it's going.

TV Fanatic: You're probably best known for your role on Days of Our Lives. What's the difference between daytime and primetime soap operas?
Donovan: Daytime drams are shot five days a week, an episode per day. You're under a lot more time constraints than a primetime show, where we shoot one episode per week and there are more takes, more time in general to play with things.

TV Fanatic: Did your background [Donovan hails from California and was a competitive snowboarder, skier and surfer growing up] help with your character?
Donovan: Definitely [Show runner Rebecca Rand Kirshner Sinclair] really wants to emphasize the Southern California vibe. That's the beach, that's nice weather... I'm on the surfing team and my background helped me relate easily to it all.

TV Fanatic: On-set photos of your character making out with Adrianna have popped up. What can you tell us about that development?
Donovan: All I can say is that Teddy's presence definitely creates tension among certain people and couples. There's a love triangle, if you will.

** To prepare for season two of 90210, check out our interviews with Matt Lanter and Jessica Stroup.

Matt Richenthal is the Editor in Chief of TV Fanatic. Follow him on Twitter and on Google+.

Tags: 90210, Exclusives