Welcome to the latest edition of the 90210 Round Table!
As usual, members of our staff have gathered together to discuss the latest episode of the series, which featured sext banter and more proof that Jen Clark might be The Devil.
Today, we take sides in the Adrianna/Navid fight, among other topics. Let's get to the Round Table...
Are you on Team Navid or Team Adrianna?
BrendaLova: This is a tough one, but Navid. His jealousy isn't coming out of nowhere. How would you feel if your girlfriend kept referring to her ex as "amazing?"
The Real McKay: Adrianna. Sure, I can see where Navid is coming from. But a relationship without trust isn't worth having.
Wild4Wilds: Team They Are Both Wrong. Navid should have spoken to Adrianna in private, not shaken Teddy down in the interview; but Adrianna should also have been more sensitive to her man's insecurities.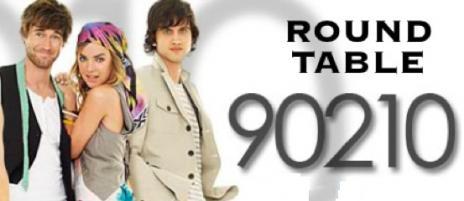 Give Ryan a pep talk.
BrendaLova: Dude, you're a teacher. Aren't you supposed to be a relatively smart guy? Open your eyes, see what Jen is up to and move on!

The Real McKay: Sure, Ryan, Jen is hot. But what about Kelly Taylor?!? If you're gonna be "in the game," as Harry advised, get on her playing field, man!

Wild4Wilds: A pep talk for what? He banged a beautiful woman in his classroom. I fail to see a problem here.

Okay, now give Silver a pep talk.
BrendaLova: Remember your breakdown last season, Silver? You've come so far since then. Unless you want Kelly playing extra protective mother again, chill out.

The Real McKay: You've got a new haircut. You've put on some pounds. You look great! Give Dixon some space and you may soon realize that there are other hotties in the high school.

Wild4Wilds: Have you seen my screen name? I'm not one to talk rationally about Tristan Wilds, either.

What will happen to Annie?
BrendaLova: She'll run away to Montana to be with Annie.

The Real McKay: She'll embrace her new, naked fame and become the next Kim Kardashian.

Wild4Wilds: She'll get asked on many new dates, that's for sure! But, in all seriousness, I see her continuing on this downward spiral for many more episodes. It's a nice change for her character.

Do you have a different vision of Liam now?
BrendaLova: Yes, very much so. We now know why Liam is so hard around the edges, if you will. But we need to learn more about his supposed credit card theft last year. Can his step father really bring charges up after all this time?

The Real McKay: I feel more sympathy for him, yes. Still, you'd hope that he'd have simply known it was wrong to cheat on Naomi last season. Don't use your parents as a crutch, man.

Wild4Wilds: Of course. All he knows about relationships is what he watches at home. That would be an emotionally abusive step father and a submissive mother. It makes perfect sense it would take him awhile to learn how to be a real boyfriend.

Matt Richenthal is the Editor in Chief of TV Fanatic. Follow him on Twitter and on Google+.

Tags: 90210, Round Tables