Every week, soon after the latest episode of Mad Men, our staff will come together and analyze various aspects of the most recent hour.
Following "The Fog," for instance, our team of writers dishes on the new member of the Draper clan; Duck's job offer and more. Let's go to the first edition of the Mad Men Round Table!
Will either Pete or Peggy take Duck's job offer?
DapperDon: No. The show simply wouldn't work if it spent too much time outside the office, unless it's focusing on Don's personal life.
PrettyBetty: Peggy is clearly considering it. I bet Pete does something to screw things up for her.
PeteSoup: No way. You can't leave any office building that employs Don Draper. It just isn't done.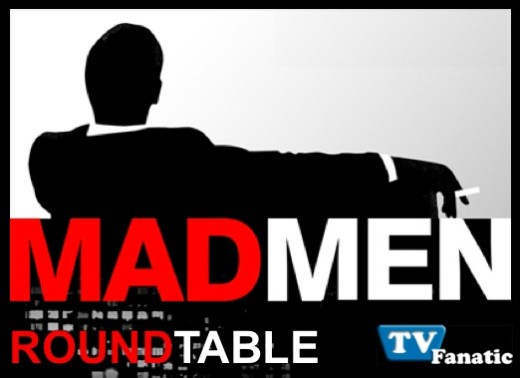 Will Don really be a better man?
DapperDon: I think so. It doesn't mean he'll win Father of the Year, but that conversation with the prison guard really turned a corner for him.

PrettyBetty: No. These revelations rarely last, and I can promise you this: until Don comes clean about his past to Betty, he'll never truly be changed.

PeteSoup: As long as he keeps looking that way, it doesn't matter to me.

Pete Campbell: Love him or hate him?
DapperDon: I absolutely love him. What an entertaining character. You really want to hate the guy, but then you realize he's just painfully ignorant. He really has no clue how to act in any situation.

PrettyBetty: The guy makes me cringe any time he's on screen. I guess that's the point of his character, but it works too well. I despise him.

PeteSoup: I love to hate him. Where does that put me?

What was the most revealing quote about the episode?
DapperDon: That's easy: Betty's response to Don being in the waiting room: "Bullsh-t. He's never where you expect him to be."

PrettyBetty: Even Lane Pryce, a Brit, was right on the mark about the era and the African-American movement, as he said "something is happening here." Interesting he's the only person there to really notice.

PeteSoup: After Peggy said that revealing Duck's job offer to Don was "her decision," Pete's reply that her decisions affect him was dripping with baby bitterness.

Matt Richenthal is the Editor in Chief of TV Fanatic. Follow him on Twitter and on Google+.

Tags: Mad Men, Round Tables