Upon announcing that they were letting Colin Egglesfield (and co-star Ashlee Simpson-Wentz) go from Melrose Place, producers said the plan all along was to only feature the characters on the first few episodes.
That's new to the actor, however.
In his first interview since news of his dismissal spread, Egglesfield said he had a multi-year contract and: "The ratings aren't what they need or want them to be, so they're going to try things to shake things up."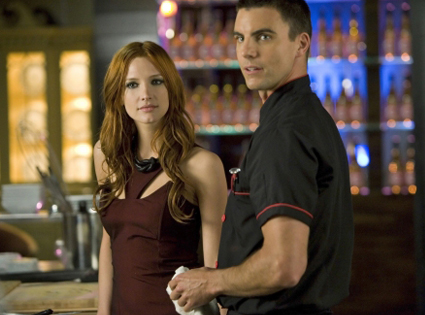 Speaking to E! News, here are more excerpts from Egglesfield, as he tries to explain what took him from new primetime star to out-of-work actor in just a couple weeks...

On learning he was fired: I got the call this morning from our producers, Todd [Slavkin] and Darren [Swimmer]. They were really saddened, and you could tell it was difficult for them to break this news to me. They said it was a network decision, and they said the network thought Auggie was a little too dark, with his alcoholism. They felt like in the landscape of Melrose they wanted to change the tone of the show.

On his reaction: It's kind of crazy. It's like, How?! Why?! I'm not spending too much time thinking about it, because it'll just drive you crazy, if you try to figure something out that you're never going to figure out. I'm just focusing on [other stuff]. I've already got a bunch of auditions lined up.

Egglesfield said Auggie will NOT be killed off the show. What can fans expect from the character, until his January exit? He said:

"Auggie's relationship with Riley comes to a head next week. She feels like hanging out with me puts too much pressure on her relationship with Jonah, so that makes me upset. And then something happens at work where I get in this fight with Marchello, the head chef, my boss.

"So, a relationship with a girl that I am in love with isn't working out, and my career is not working out, and the only other thing Auggie has is his alcohol, so we see Auggie face the decision of whether or not to hit the bottle again. And, of course, Violet is in the mix.... there's a lot of really cool stuff coming up.

Will you miss Egglesfield on Melrose Place?


Matt Richenthal is the Editor in Chief of TV Fanatic. Follow him on Twitter and on Google+.

Tags: Melrose Place, Interviews