The first major death on FlashForward likely took place this week.
Before we get into a review below, which includes our take on this individual's probable passing, readers can catch up on the episode "Gimme Some Truth" by following our link. All set? Here we go...
This Worked: RIP, Janis, you seemed very nice. But this is the exact development the show needs. It couldn't have gone on for too long blindly assuming everyone's flash forwards were going to come true. Now, assuming Janis doesn't recover, Mark and company will be forced to figure out how to proceed.
This Needs Work: Courtney B. Vance and Joseph Fiennes are clearly solid actors, but each is struggling with his FlashForward role. Vance overplays every scene - did he really need to overtly sigh and shake his head during the Senate hearing? - and Fiennes looks either constipated or confused. His character is stale and boring, simply put.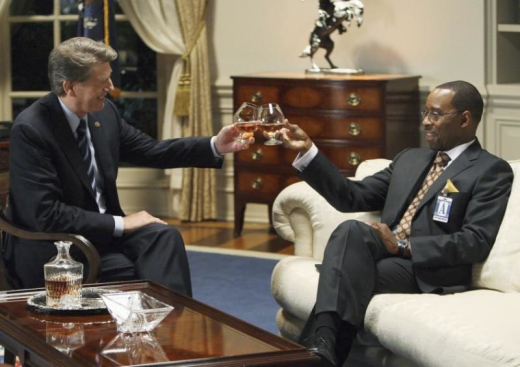 This Worked: Kudos to the series for stepping back and giving viewers some idea that this is a national crisis. We need to get out of the Los Angeles FBI office more often, considering the depth of destruction caused by the blackouts. It was especially intriguing to meet Senator Clemente, someone who might actually use the blackout to her personal advantage.

This Needs Work: We understand one can't question a show such as this too much, but when a character (Demetri) continues to lament his eventual murder, it's difficult not to yell at the screen: just stay inside on March 15, 2010 in that case!

Overall, the characters harp too much on their visions. It's absolutely all anyone talks about. Aside from making each person seem less human as a result, it also forces viewers to consider why they don't take action to prevent unwanted futures from taking place.

Now, with Janis hopefully dead, it will be intriguing to see how this changes the dynamic of the series. Do you agree? Disagree? Write in now and share your thoughts!

Matt Richenthal is the Editor in Chief of TV Fanatic. Follow him on Twitter and on Google+.

Tags: FlashForward, Reviews